Hi friends,
please test nethserver-guacamole providing Guacamole 1.3.0 (on a test machine if possible).
yum install https://mrmarkuz.dynu.net/mirror/devtest/nethserver-guacamole-0.0.1-3.ns7.noarch.rpm
Epel provides libguac*-1.3.0 now so the module needed an update.
I included the guacamole-customize-loginscreen-extension by @Zer0Cool, thanks to @oneitonitram for his post, and adapted it a little bit. Still thinking about the design of the login page. This is the example actually included in the new module: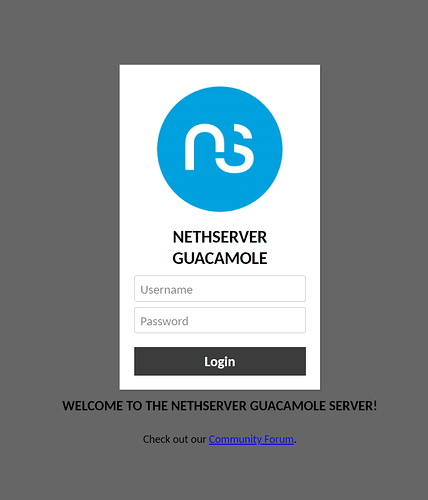 Here's another example by @flatspin.
You can manage the content of /var/lib/guacamole/extensions/branding.jar easily with 7zip in Windows as @royceb explained here or with mc and unzip:
yum install mc unzip
After changes to the file you need to signal-event nethserver-guacamole-update to apply them.
See Guacamole docs for more info.
If you already use a branding.jar file, please do a backup before updating.
I have disconnecting issues with VNC on servers that were updated from version 0.9.* but didn't find a solution yet. Similar to these:
https://issues.apache.org/jira/browse/GUACAMOLE-414
Source code: