@alefattorini, you just did it!

As we already announced, me @giacomo and @Stll0 directed our efforts on Shared Folders and this new page, Virtual hosts, trying to follow the advice of our community.
The nethserver-virtualhosts package is now available and we hope you'll test it and give us your feedback on this work!

To install it just go to Software center and select the "Web server" group. Or type
yum install nethserver-virtualhosts

As you can see from the screenshots Virtual hosts are a new kind of object that allows
FTP access to the vhost web root. Folders permissions can be set from FTP.
SSL/TLS certificate selection. @alefattorini will tell us how to configure them in an upcoming announcement - stay tuned!
and other tweaks!
The UI module has a plugin architecture, so additional features can be added by other packages.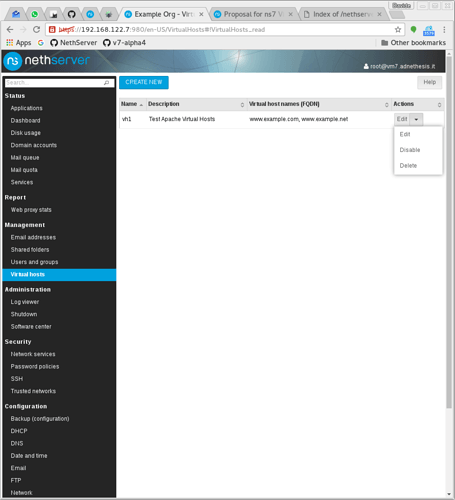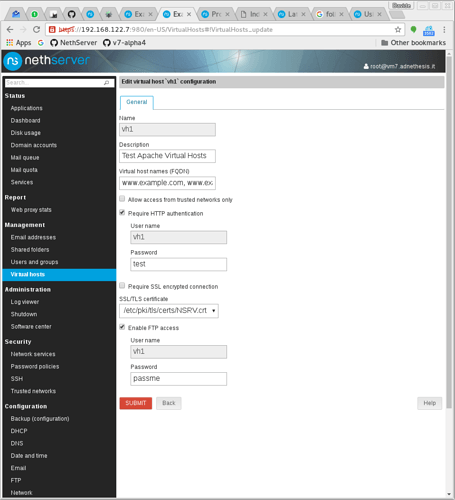 You may notice some things we talked about are not present, like:
.htaccess interface: AllowOverrides ALL is enabled by default. We think .htaccess file(s) can be uploaded with FTP. Many applications and howtos provide good defaults. Anyway a plugin can be developed.
proxypass: we'd release a separate page. It seems a different use case
FTP and SSL: we agree it's safer, but it's more complex to configure. The FTP daemon does not use system users (and passwords). Ad-hoc credentials are created: we hope this will mitigate the security concerns.
customizable webroot path: does not fit well with FTP chroot configuration.