do you plan to solve the problem with the new version 2.2?
I have no problems with rspam2x
now I have updated NethServer from "software center" Updates available …
has installed version 2.2 of rspamd and "QuarantineAccount" it works

but when rspamd service start I get these errors


Loghelper is obsolete and I deactivated it with the rpm from testing
The clamvirusfail symbol should be inspected, it is fun because it should works. Do you have the same errors if you restart the service several time?
if you want to inspect deeply you can use less /var/log/maillog and to use / to sort by a string (N and n to move in the file)
rpm -qa | grep 'nethserver-mail'
rpm -qa rspamd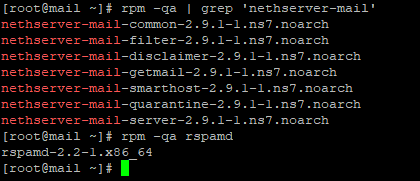 I downgraded to rspamd-2.1-1, the message is no more present in log, I will report to upstream
even if there are messages I can still leave 2.2, do you work well?
We do not use all versions, some have some eastern eggs, play as your own risk

interesting feature with rspamd2
178466:Nov 30 11:17:36 prometheus rspamd[5999]: <c9d0bf>; proxy; rspamd_stat_check_autolearn: <DUJZO36W-23XY-3FVU-JQQF-WG8KAKDTE0GY@facilement.site>: autolearn spam for classifier 'bayes' as message's action is reject, score: 27.49
autolearn spam and ham
if score < 0 -> ham
if rejected -> spam
The module reputation (it replaces ip_score) is a good major improvement, I see it in action in logs, the score is added dynamically following several conditions
surbl has been obsoleted and replaced by rbl
Hola todos, hoy tenemos rspamd v2.2 para probar, por favor yo necessito tu ayuda
yum install nethserver-mail-server nethserver-mail-common nethserver-mail-filter --enablerepo=nethserver-testing
la QA se encuentra en github
Rspamd v2.2 is ready for the QA, please we need your tests, you can find the QA at the github page…
gracie, gracias, thank you, merci
I am now using Libraesva antispam, so I temporarily disabled Rsapmd,


can I still try the update even if disabled?
In the postfix configuration we set the linux socket to use rspamd, if rspamd is stopped I bet that postfix will do a soft reject (try again later)
disabling Rspamd postfix seems to work,
Nethserver receives mail from Librasva and delivers it to mailboxes, can you check if it is correct? or what should I change?
if I need it I open a new post, I wouldn't want to go out of topic here
Yes you should open a new thread to explain what you did to switch, eventually why, it could be nice
by choice of the company management they chose Libraesva

Did some tests on my home mailserver and it looks good so far. Thanks for the great work!

antivirus (tested with eicar string)

virus rejected
clamd down, soft reject works
clamd down, sending as authenticated user from webmail works

reputation is there
bayes filter

log entries for autolearn and bayes tokens are there
HAM/SPAM counts up correctly

from moving mail to junk folder
by uploading spam/ham in rspamd UI
Not checked: Count up of ham/spam on autolearn as the mails have been learned already:
Dec 11 08:07:50 server2 rspamd[6291]: <e7d1b7>; proxy; rspamd_stat_check_autolearn: <7C7A1121.2FABD67C@cnt-grms.ec>: autolearn spam for classifier 'bayes' as message's action is reject, score: 41.70
Dec 11 08:07:50 server2 rspamd[6291]: <e7d1b7>; proxy; rspamd_task_process: learn error: <7C7A1121.2FABD67C@cnt-grms.ec> has been already learned as spam, ignore it
Dec 11 08:07:50 server2 rspamd[6291]: <e7d1b7>; lua; neural.lua:487: cannot learn ANN tRFANNACDF6FD7A287B20A260: too many spam samples: 2

I'll report as soon as autolearn counts up.