I used localhost instead of hostname.domain.ltd:3312
Cannot configure Flyve MDM with the Wizard because there are some points missing…
... Please check the general settings, the API settings and the notification settings. ...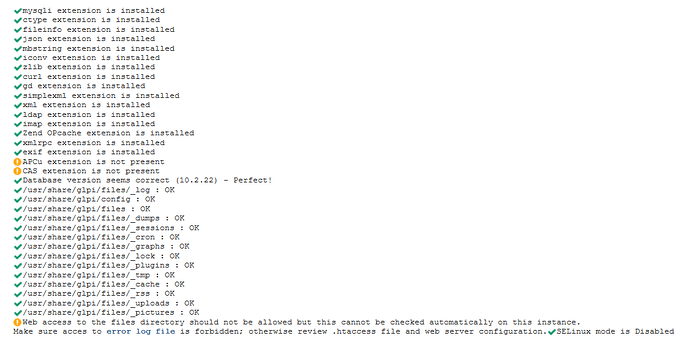 Let me recommend you Headwind MDM - an open source Mobile Device Management system. The software is easily installed on Ubuntu Linux and Android devices. Its primary purpose is remote installation and update of mobile apps, as well as management of mobile devices.
Headwind MDM is an extensible platform which could be adapted to fit every company's needs.
The software is used and highly rated by the users in such industries as retail, wholesale, logistics, and more.
Let me ask to @h-mdm: is the project going to officially support CentOS?
The project is cross-platform, and we have users who's using the software on CentOS. As far as I know, the only thing they must do is to adjust the Tomcat directory in the installer script. So I may definitely say that Headwind MDM supports CentOS (we'll add a question and answer about CentOS soon!)
It is better to have a product which supports Android and iPhone/iPad.
"Can be installed" is quite different than "supported", @h-mdm…
H-MDM seems a nice product, and I understand that the company behind it needs to make money some way. But the limit of 3 clients(*) for the 'open source' version is very poor and practically unusable: I myself already own 3 mobile devices (2 smartphones and a tablet), so I can't even 'manage' the devices for my family with it…
Or did I misunderstood the limitation for the opensource version? @h-mdm
(*)quote from the pricing page of H-MDM:
Cloud-based control panel limited to 3 devices
Maybe 9 could fit better for you?
Another restriction model would be better… Like: free for non commercial use…
If I had a company that was depending on smartphone communication, it would be a no-brainer to spend EUR20,- per phone per year… but for private use costs can be rather steep.
I agree with you robb!
Flyve MDM would most likely the better solution for our community, but I was not able to install it on NS7

Would be great to get a HowTo for it… Are there any volunteers?
I missed that completely. You were on the right direction, from the screenshot it seems just php extensions are missing. Do you still have this test machine?
You may install the extensions (depending on your PHP version) like this:
yum install php-pear-CAS sclo-php72-php-pecl-apcu-bc
If it does not work, search for extensions:
yum list "*php*cas*"
yum list "*php*apcu*"

Unfortunately not, but I could install a new server… Can we please make a new topic with only the right steps?
OK, the server is up and running. 2NICs, the red one is connected with the DMZ…
OK MariaDB could work, but how must I change this line to be able to use mariadb instead of mysql:
yum -y install nethserver-mysql nethserver-rh-php56-php-fpm rh-php56-php-mysql rh-php56-php-mbstring rh-php56-php-gd rh-php56-php-ldap rh-php56-php-imap rh-php56-php-opcache sclo-php56-php-pecl-apcu rh-php56-php-xmlrpc
I used these lines for mariadb102 and php71:
# Install Nethserver rh-php71 and extensions and mariadb 10.2 from stephdl repo
yum install http://mirror.de-labrusse.fr/NethServer/7/x86_64/nethserver-stephdl-1.0.7-1.ns7.sdl.noarch.rpm
yum -y install nethserver-rh-php71-php-fpm rh-php71-php-mysqlnd rh-php71-php-mbstring rh-php71-php-gd rh-php71-php-ldap rh-php71-php-imap rh-php71-php-opcache rh-php71-php-xmlrpc nethserver-rh-mariadb102

the unfortunate thing in the modern world today, is that we have so many per(something) per month.
either per user, per month, per device per month, per…
and these are all even becoming accounting nightmare.