Gehe ich recht, dass du Deutschprachig bist? Ralph entspricht eher deutsche schreibweise.
Deutsch, falls es für dich einfacher geht ist ohne weiteres möglich.
Right, you can take a template container (There's plenty available) for a standard Centos 7 container
That takes a few secs (!)
Fire that up and install NethServer according to your requirements. There's a howto on that on their site…
http://docs.nethserver.org/en/v7/installation.html#install-on-centos
Use Containers for NethServer App or direct Apps on any Linux of your choice. I'm running a FOG-Project based Imaging solution on a base Centos Container.
The MAIN NethServer installation, the one with the AD, I'd definetely put that in a KVM based box, due to the fact that the AD itself is a further virtualisation in a container inside NethServer. As a KVM, the AD works very well.
Depending on the anticipated load… It's easier to troubleshoot if seperated, and users can take it easier if just One service is down, not the whole network!
ProxMox doesn't really support software raid, but if you keep your VMs on a NAS, that is in itself redundant (raided) then that's ok. Software RAID does work on Proxmox, your mileage may very in setting it up…
I wouldn't bother. Hook up the second disk from time to time and make a dd image to the second disk, hooked up via USB…
The NAS is the primary focal point for your VMs. They "live" and exist in there. So obviously you NEED somewhere else to keep Backups of these important files - a Backup on the same physical Disk is not really reasonable. If that disk crashes, your data and backups are gone…
So you need a second NAS. Get a bit a better one and use the present NAS as Backup. Later. For now you can use the NAS for both, but make saves manually on an external disk or whatever!
ProxMox out of the displays two containers, which are basically folders on the local disk. These can be used for anything, but you get no redundancy or Live migration. You CAN use Live Backup to migrate these VMs or Containers any time in the future, as soon as your Storage (NAS) suits your plans.
Here are the Storage options in ProxMox. The two lowest, with local in the name, are just that, local storage.
This is what you can add on for storage: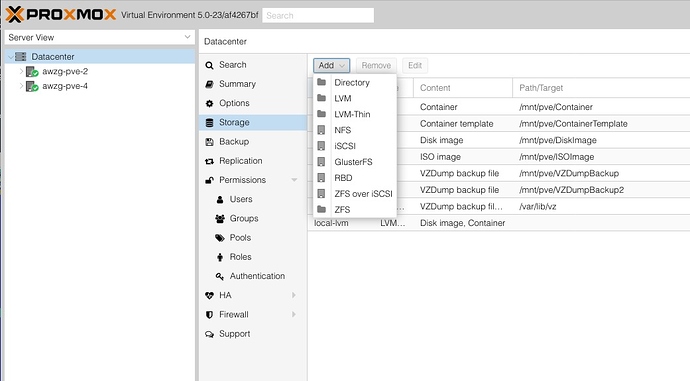 Proxmox specifies 5 different items which can be in a storage, here's my setup: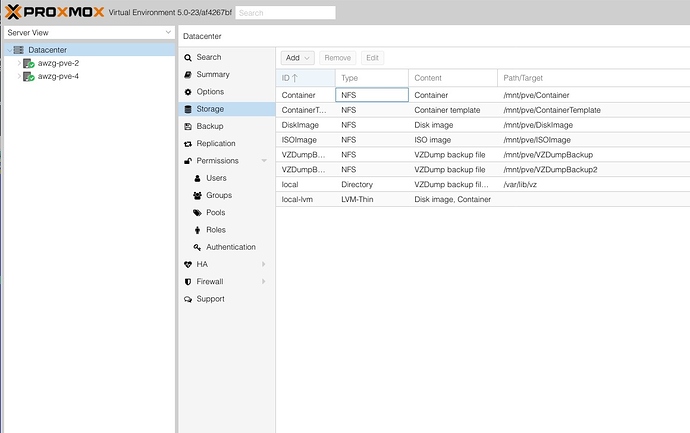 Hope that clarifies things!
Andy