Hi all,
Finally, I completed the first "Cahier" of "Cours NethServer-701" NethServer & Matrix-Synapse.
Matrix-Synapse runs on a LOCAL virtual machine and is accessible from the internet; you can use TOR to test the access. It is perfect for learning and testing.
The main NethServer (connected directly to the internet) is used as a gateway and redirects access and messaging to the LOCAL NethServer which runs Matrix-Synapse.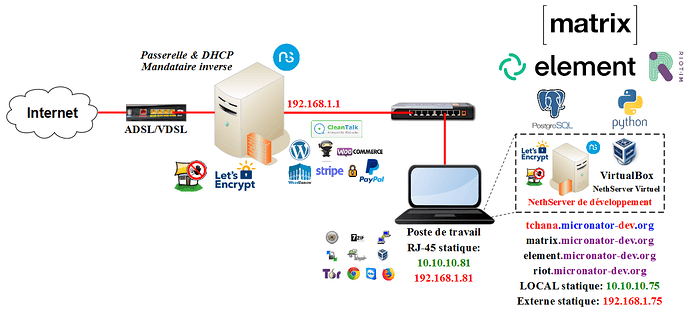 It's full of details and explanations so that a newbee can install Matrix-Synapse and its clients: Element and, for the nostalgic, the last stable version (v1.6.8 from 3 jul 2020) of Riot. Even an advanced newbee can learn a few things about NethServer.
I have used nethserver-postgresql12 and rh-python36.
This Cahier is available free of charge at: https://www.micronator.org/affaires/produit/nethserver-701-cahier-01-nethserver-matrix-synapse/.
The next Cahier will explain the Communities and Rooms.
For conversion to another language, see Cours NethServer-101, 201, etc... Available in many languages
A big thank you to @capote for his support and encouragement.
All suggestions, comments, corrections, etc… are most welcome.
Enjoy and have fun.
Michel-André