I get strange characters in the organization contacts page. Is there a problem with unicode settings?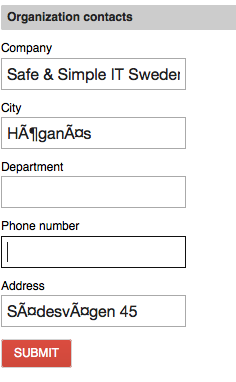 Could you paste here the original strings to reproduce the issue?
I hope Discourse supports UTF-8

I use Swedish characters for city and addresses:
City: Härnösand
Address: Sälasvägen
Cheers,
I confirm the problem: thanks @malvank for pointing it out!
I've filed a bug

@alefattorini, @malvank, @Yan_Sivitskiy, @vcc the bug 3183 is now ON_QA!

Would you like to verify if it fixes the problem (and does not break anything else)?

To update to the modified package (after mirrors are synced) type:
yum --enablerepo=nethserver-testing update nethserver-httpd-admin-1.4.1-1.1.g96a6930.ns6


Feel free to register on the Redmine bugtracker to join the QA process directly on it!
Last day for a small hollydays.
Tomorow will start as usual
Great news, will try it out as soon I get the chance!
Update:
Sorry for the late response but it works just perfectly. If you install Nethserver from the current iso file 6.6 and run through the intro tutorial you will see that the problem is still not fixed. As soon you upgrade the installation with the latest updates and check back to Organization contacts language settings are fixed.
I have registered myself on http://dev.nethserver.org but I think i lack permissions.