Let's kickoff this new year getting out again this series of posts

A brief story
Some days before our Conference in September I asked a guy, "ehi, I know that I'm a bit late but would you like to join the event in Italy?"
He said "Why not? But I have to take a train and travel for 20 hours, all the night long"
Me "Oh man, it looks hard!"
He said "I can make it. Give me some time to buy a ticket"

At the end of the day, he drunk a lot of coffee… taking some buses and trains… and he was there!
He watched the NethServer Stand at our meeting all the day! And the day after he brought all his energy at our first conference. Such a great guy!
So… this month I'm glad to appoint
@mrmarkuz (aka Markus Neuberger) as
Member of the Month (MoM) - January 2018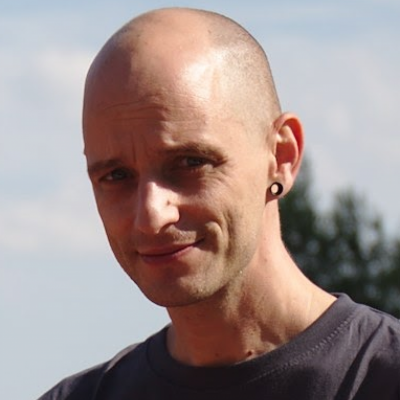 Why?
The answer is pretty obvious, take a look at his profile

120 Consecutive Attendance
Gold Poster
Gold Reader
NethServer Ambassador
Super Support Specialist: At least 30 support questions resolved! Offering AMAZING support to newcomers!
Top Poster of the Month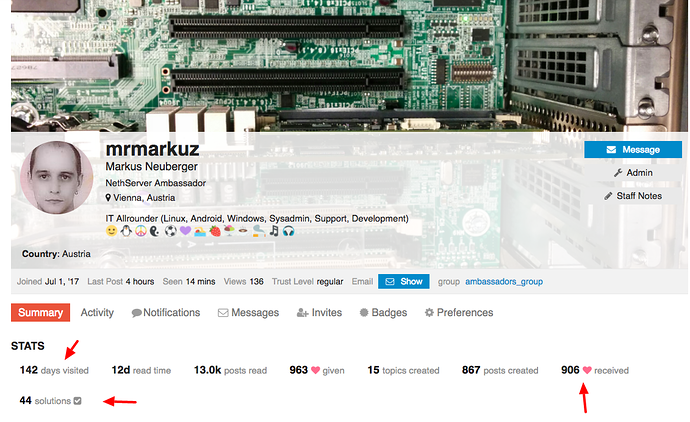 Who's mrmarkuz? Please state your name & location, and tell us a bit about yourself
My name is Markus Neuberger. I live in Vienna since I was born there. I got my first computer in the age of 6. The fire is still burning as I find myself working as IT consultant for a small local company at the moment. Next to NethServer I love computers, linux and soccer, my spare time I share with family and friends.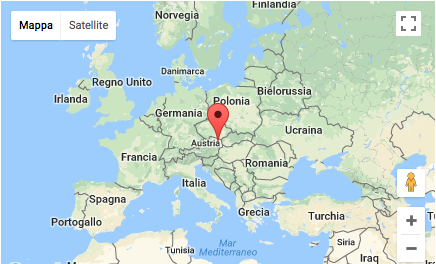 How do you have bumped into NethServer?
A fullfeatured Linux server was a project for me since I started with Linux and in NethServer I just found what I was looking for.
###What are you using NethServer for?
Firewall, proxy, gateway, spamfilter, mail-, file-, print-, webserver, groupware, nextcloud, backupserver at home and on a VPS. I also run some NethServer mirrors on NethServer including a Raspberry.
###What do you love about NethServer?
Setup a full server stack quick with easy configuration. I don't see a comparable system at this level.
###How did you get so involved in the community?
I was welcomed really nice by a friendly Community and started writing a howto about monitoring and got nice feedback which motivated me next to just loving the technical concept.
###What are your motivations? What compels you to contribute to NethServer?
I love to have workable servers. By using, supporting, testing, developing, doc/howto/wiki writing, public work like social media etc I just work on this goal. But what's really cool is what comes out when working together, sharing different views and improve things together. It's like motivating each other what makes it really fun to work on NethServer.
###What has been the greatest challenge in learning about NethServer and its community?
There was no big challenge as forum, docs and wiki are good and useful and the Community is fiendly, helpful and including.
###What do you think about NethServer Community?
Definitely the best community I know.
###Any ideas on how to improve the community?
I think we are already on a good way.
###You're great at support, development and howto writing. Any suggestion for people who want to follow your path and lend a hand?
Just start installing NethServer and use it. Setup a server with any feature you like. If you run into problems, just ask the community, we help each other. When you've done this step, you already are able to give support to people who are new to NethServer.
When you have your NethServer setup and running, you may install software you like on NethServer and write a howto about how you did it. If you like a software and don't know how to install it on NethServer you may just open a feature request and others may help you and this way a howto can be made.
When you understand how NethServer works and how software can be integrated you are ready to start developing. There is a lot of documentation and NethServer developers will help and give some hints.
###Any advice to future contributors?
Be open. Talk about your ideas. Don't be shy, just start contributing, the Community will help and guide you.
###Do you have any plans for the future?
Improving NethServer and using it whereever possible.