NethServer Version: 7.3.1611 (Final), all patches installed per today
Hello again, back to this already discussed and serviced topic (http://community.nethserver.org/t/mail-quota-not-updated-if-user-quota-changed/5656/37)
As I do have 2 different servers in use (both same SW release, but different Account provider) I could see now the difference. That one with Account provider: OpenLDAP works pretty well as supposed - thanks @davidep for supporting and submitting the patches!
It's just my guess that the Account Provider makes the big differnce - the non working is shown here: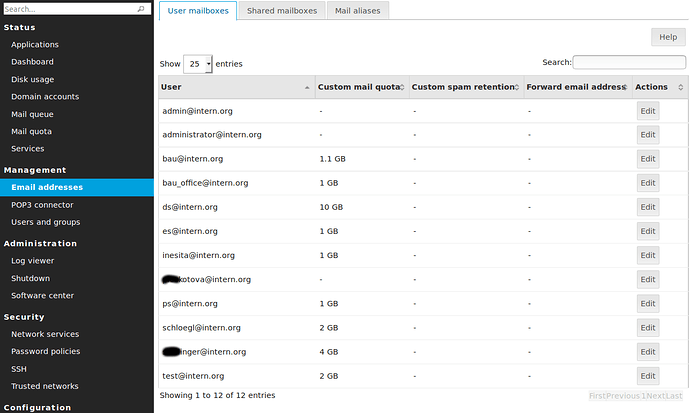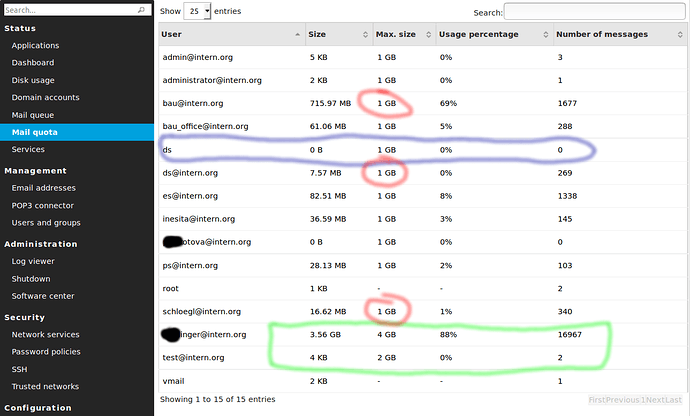 The green accounts I can change on custom mail quota and results are displayed well. The red one I can not change. I can not see any difference between red and green accounts (I did not try all accounts yet).
The blue account was created by using the command:
sudo doveadm quota recalc -u ds
and now I can not remove it from the view any more!

Pls help, try to verify if quota display works on your samba AD machine!
Thanks!