Hi folks,
tried to get kerberos credentials from my NS7 with Network Identity Manager, but got message that there is no KDC available. "Domain Accounts" show that there is a KDC.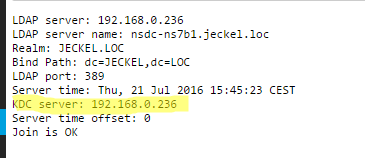 Isn't the above KDC meant to give credentials to clients? I tried to ping the ip, but it is not reachable.
(If this is a silly question please for give me. I'm not experienced with this stuff

)
Installation is a vm with one nic bridged to physical eth0, but that shouldn't matter i think.
Thanks in advance.