Hi All,
I am trying to join my QNAP TS221 to my nethserver Domain with no success.
I was able to joint it once into the domain, but later the QNAP disks died and it was reinstalled.
nethserver is updated to the latest version:
System version: NethServer release 7.6.1810 (final)
Kernel release: 3.10.0-862.14.4.el7.x86_64
my domain account is:
NetBIOS domain name: mydomain
LDAP server: 192.168.10.31
LDAP server name: nsdc-dc.ad.mydomain.local
Realm: AD.mydomain.LOCAL
Bind Path: dc=AD,dc=mydomain,dc=LOCAL
LDAP port: 389
Server time: Wed, 06 Feb 2019 15:48:47 IST
KDC server: 192.168.10.31
Server time offset: 0
Last machine account password change: Mon, 06 Aug 2018 09:35:04 IDT
Join is OK
whenCreated: 20180806063503.0Z
name: DC
objectSid: S-1-5-21-1364839592-55747391-1094092716-1104
accountExpires: 9223372036854775807
sAMAccountName: DC$
pwdLastSet: 131780109042605860
dNSHostName: dc.mydomain.local
servicePrincipalName: HOST/DC
servicePrincipalName: HOST/dc.mydomain.local
whenChanged: 20190203074515.0Z
lastLogon: 131939338671395610
distinguishedName: CN=DC,CN=Computers,DC=ad,DC=mydomain,DC=local
When I try to connect the QNAP to the domain, it has a quick configuration wizard that helped me join the domain in the past.


When I run it now, it will ask for, the following:
Full DNS doamin name:
I put:
nsdc-dc.ad.mydomain.local
NEBIOS domain name
: I put
MYDOMAIN
Primary DNS server: 192.168.10.31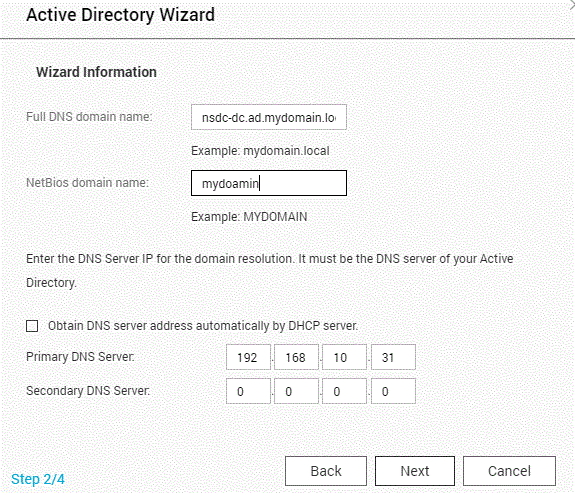 on the next stage it will show me the Domain server it found:
nsdc-dc.ad.mydomain.local
,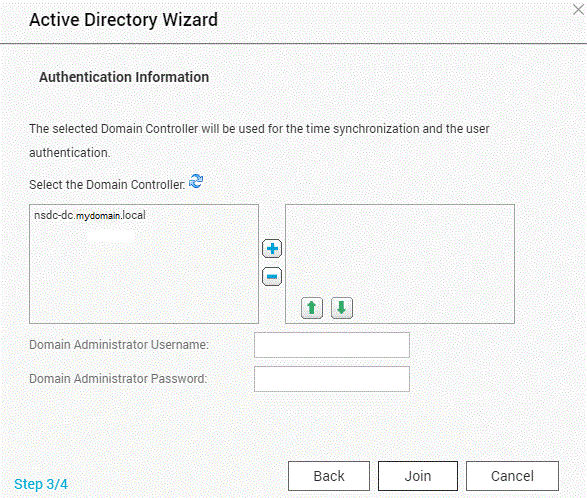 I will add it to the the list, give an administrator user/password and click Join,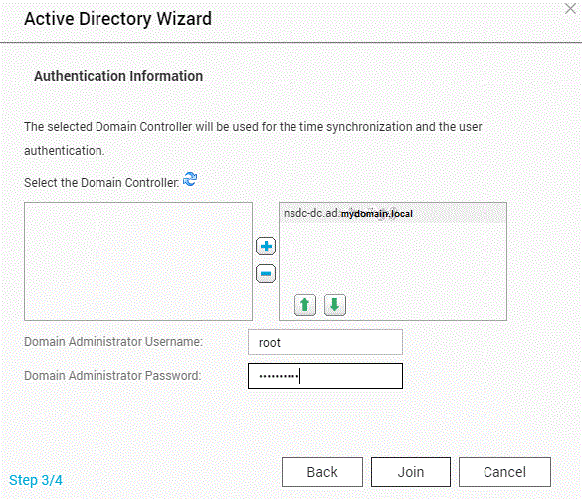 After a while, I will get a summarize screen that says it will join the domain:
nsdc-dc.nsdc-dc.ad.mydomain.local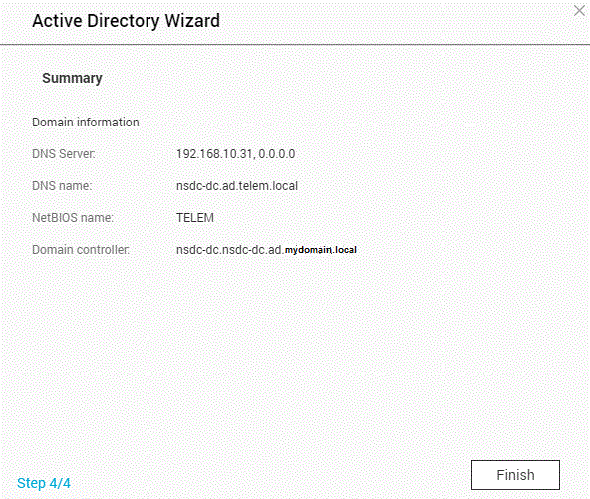 here I can see the problem, twice
nsdc-dc.
??
in the QNAP log I get the error:
[Security mode] Failed to join domain. Cannot resolve domain. Check DNS server, AD servewr name and Domain.
What do I need to do to fix this?
Thanks
Eitan