NethServer Version: 7RC
Module: Backup
Hi,
we have a Windows 2008 R2 as DomainController and FileServer with DFS-Shares.
Also we have a Nethserver for sogo in the same IPAdress-Range but with an own domain. If I try to backup data of NS to a windows share it fails
Nov 24
01:00:17 groupware esmith::event[12987]: Unrecognized escape \I passed through
in regex; marked by <-- HERE in m//192.168.46.10(.*)/\MyWinDomain\I <–
HERE T\Backup/ at /usr/share/perl5/vendor_perl/NethServer/Backup.pm line 340,
line 1.
Nov 24
01:00:17 groupware kernel: Status code returned 0xc000006d
NT_STATUS_LOGON_FAILURE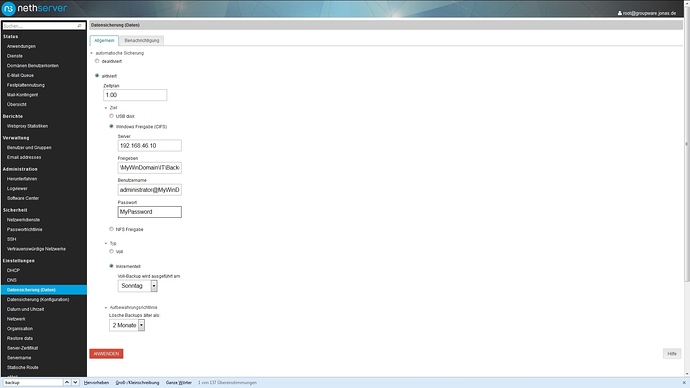 I tried to mount the share in the terminal, but it's error 22
mount -t cifs -o username=administrator@MyWinDomain.lokal.mywin-domain.de.de,password=MyPassword,sec=ntlm //192.168.46.10/MyWinDomain/IT/Backup /media/Backup
Output is:
mount error(22): Invalid argument
Refer to the mount.cifs(8) manual page (e.g. man mount.cifs)
Can somebody help me.