Hello Forum,
I'm not sure if @Andy_Wismer uses Proxmox but I do believe you use Zabbix. Perhaps you'd like to put in your two cents into my issue.
My Zabbix server is 6 LTS
My Proxmox Cluster each run 7.2-11
There is a new template within Zabbix 6 called "Proxmox VE by HTTP". I think it's a very useful template for anyone using Proxmox. Here is a link to the template:
https://git.zabbix.com/projects/ZBX/repos/zabbix/browse/templates/app/proxmox?at=refs%2Fheads%2Frelease%2F6.0
This template requires an API key be created In Proxmox. I found this excellent post that goes through exactly what needs to be done and even shows how to test using Postman:
I've setup an API key on my Proxmox cluster but the template is not able to connect to my Proxmox from Zabbix. Most of the items are blank and I see on some items the following error message:
Proxmox: Node []: Status - Response code "403" did not match any of the required status codes "200"
What's interesting is that when I dug into one item in particular "Proxmox: Get cluster resources" I can test in Zabbix 6 and I can see data coming back from the Result of my cluster. It's accurate in that it shows which hosts are online or offline.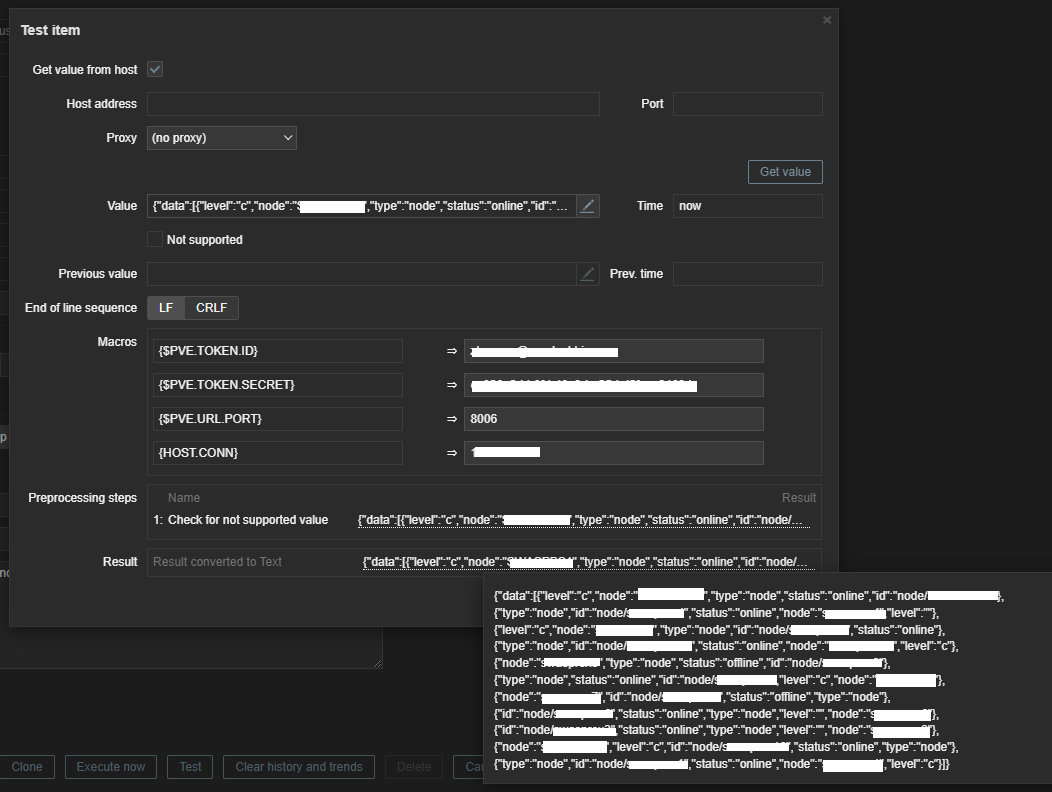 I then went through the exercise of setting up and testing my API key through postman using the link above. Some of the Get commands do work so data is available though my Proxmox API key. But I'm thinking this template in Zabbix may have an issue with how it connects through my API key to my Proxmox.
Are you using this template by chance Andy?
Is anyone else here using this Proxmx template in Zabbix 6 and can successfully connect to their Proxmox cluster?
Thank you.