In Italian:

creative and very active Italian team
On Reddit, please reply to this guy

On facebook

Just a small sneak peek on July Issue of LG

Review in Italian: NethServer 6.8 "Final": eccola, in tutto il suo splendore

This guy is doing a great job, we should add this video to our community documentation, I'm trying to reach him out.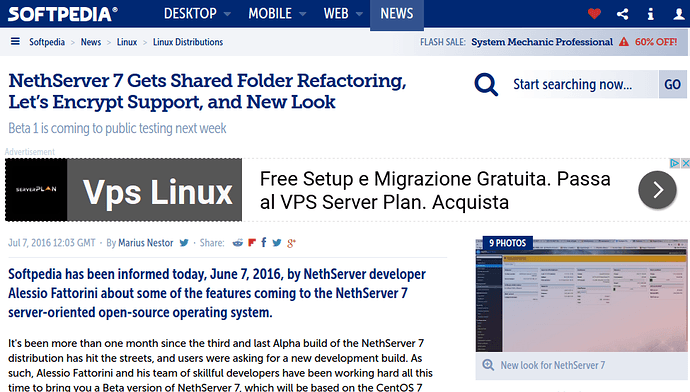 Our friend @JeffBales is working hard on testing NethServer 7! Here he shares his impressions
https://thingsdomakesense.wordpress.com/2016/08/15/nethserver-7-beta1-installing-samba-active-directory/
Awesome

Thank you Jeff!
@JeffBales double mention for you


Welcome

I have looked at Samba4, Zentyal and Nethserver but they seems to be overkill as I do not need an AD.
Let's reply to this guy!

So many talkers this time!
Free Nethserver might be the small business server you're looking for
by Jeff Wallen on TechRepublic
NethServer : An all-in-one server for Small and Medium enterprises
by OsTechNix
NethServer 7 "Bruschetta" Server-Oriented Linux OS to Support Nextcloud 10
by Softpedia
Distrowatch
Spread the word, spread the word…
I am curious if all these mentions generate traffic to NS (and more members for our community)
Give me some time to collect some numbers so I can open a new topic about it
In the meantime, another great article:
Install and configure modules in NethServer
NethServer listed in http://sysadmin.it-landscape.info/