Hello @support_team, @webtop_team or @lucag ,
My team has noticed that some clients images are not showing up on emails we receive.
Some clients are sending us inline pictures (not attachments but pictures within the body) or they have an image in their mailcard (name) where we see something like the following: I've seen something like this with other email programs but there has always been a message or button to click to download images. I don't see an option in the email we receive and review in Webtop to display the image.
Is there a setting I need to enable?
An addendum to my post…I've just discovered that the inline picture that didn't show up properly and the picture in the senders mailcard do show up as separate images when I reply back. But these attachments are not in the email when we open it to read the email: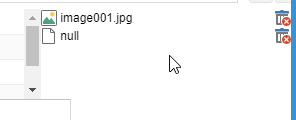 Is there a setting I can enable to allow inline pictures/images be in the email that was sent and not as a separate image file?
Thank you.