English is also not my mother language and I started some years ago. I prefer to translate only missing words instead to translate the full sentence. I us dict.cc. With the time I improved and this in my age

I can agree with you but we're not so small, spanish and portuguese/brazilian tribes are quite active here.
I'm just wondering if a section in Spanish could help, we might use it to discuss :
end-user questions
know each others
organize local meetups
I need a moderator for this section who can help people and recap or move questions in English, @apradoc would help in this case. I'd like to make people more comfortable and at ease with their own language.
That's the real truth! Using NethServer every day and facing problems is really important to increase your experience and consequently your activity here. I guess many people just test it and don't need to sort out REAL problems.
Why is Sarg better than Lightsquid? Please open a new topic in the #feature category so we can discuss it
No worries, we understand you very well.
May change my mind later but I see a language/regional based section under a chat, and translations categories (the latter for translation teams) categories may fit, but most other sections should be kept in English.
Regional support sections will restrict the number of possible supporters.
Letting us post in our language and having the translators team or regional moderators translate into English might be manageable for a short period of time, but as community grows this might turn unfeasible.
A plugin that:
translates a post into English, adding a note like: post auto-translated, and a link to switch to the original content (Show original text)
let moderators amend auto-translated text
let users view the contents in any language (translate this into…[choose your language]), translating it from any of both sources (original post language or English)
could be a middle-way solution.
@alefattorini, I wonder if a discourse translation plugin is running on this forum, as while reading some post in Portuguese it turned into English. For me it was easier to understand the post in Portuguese than the translated version.
@alefattorini, keep and eye on the discourse forum. There are multiple threads about translation/multilanguage forum going on, for instance:
OMG it's awesome!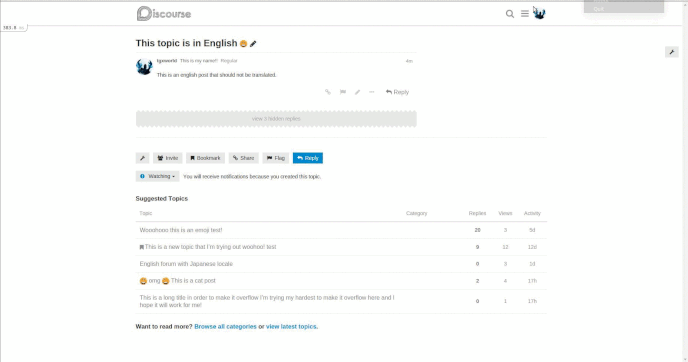 I like it a lot for the work of the forum. However, it is very important that the knowledge base in the wiki continue to be translated into multiple languages from a certified source in English, as you do @dnutan
I say this because there are a few Caciquitxs who are not yet enrolled and would prefer to "see the bulls from the barrier". Surely a wiki in your language would help them to take that step, even more so with this translation tool.
Excellent find, brother!
@alefattorini: you think if we ask for this gift to Santa?

I can agree with you on it. What do you think to take a crack at it just in the #chat chat category?
Some people are able to start topics there in their own language:
Any other language? Indian ( @Kolli_vasu @saikrishnavedaraju ) or Francais ( @stephdl @loic ) or Russian ( @Artem_Voylenko) ?
I'm trying to see if Discourse-Translator++ is workable, thanks for your hints.
I agree with @dnutan . If regional support added to chat then English would be more preferable because if I am not wrong in India most of the technical information is shared through English only.
@alefattorini other than English, Hindi can be added.
Agree on that. Documentation and wiki in as many languages as possible.
Let's do it!
Instagram and Whatsapp incorporated translations online publications and messages
It's not translated!!!
( at least by mail)
Jim
Not yet. I'm working on it

Hello good morning , sorry for the delay.
Anyway, is not that the SARG is better, it is that with the SARG have another option to view the report access for my users.
like the time he was in a certain site , among others,
the LIGTHSQUID provides a very basic report .
Good even if I had to customize , do a search of denied sites , the most accessed sites and etc.
Please as I suggested open a new topic so we can discuss it
Seems like it won't cause any trouble anymore.
Will get it installed before Monday!
Hi, better a late reply than none at all?!
I registered to show interest since I use the forum when I need information. I run a private server for my family and for the fun of it! I switched from Zentyal a couple of years back. The main reason for that was the unability to upgrade - a new installation was needed every time. So far I have managed to follow the instructions and am running on 6.8 today. I hope the same will apply for version 7! Today I run it virtually on Proxmox so it is easy to revert if something bad happens at an upgrade…
Cheers,
/L
Definitely!
Our upgrade will be as smooth as we can. Thanks for your feedback glad to read these stories