NethServer 6 has a new BETA module: Upgrade tool!
As you may expect, it upgrades the running system to NethServer 7 with the so-called "in-place" or "live" upgrade procedure.
Why BETA? Because a live upgrade is dangerous and might lead to data loss: we must test it in controlled environments before using it in production!
The module has now a dedicated page in the Admin's manual:
http://docs.nethserver.org/en/v6/upgrade_tool.html
---
Once installed from the Software Center it decides what kind of accounts provider the system requires.
A local AD accounts provider wants a green bridge interface:


Once the bridge interface has been defined the other parameters for AD are requested: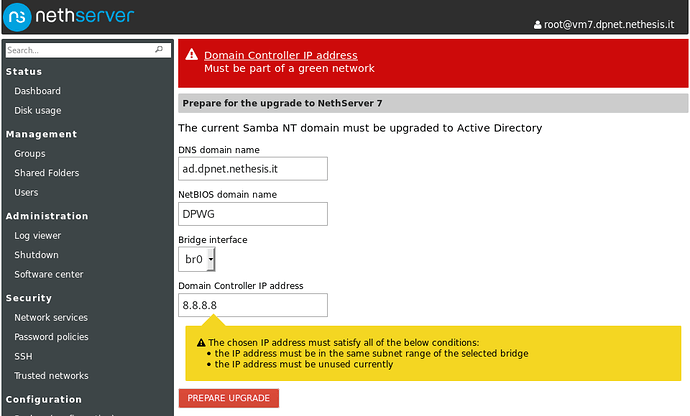 The local LDAP accounts provider does not require any additional information: only the "PREPARE UPGRADE" button is visible.
The free disk space is checked twice: before and after RPMs download. The first check is rounded up to avoid the second one to fail.
When the upgrade is ready to start two choices are available:


Refer to the manual page for more information!
This is an accelerated video of the upgrade procedure
See also: