NethServer Version: NS 7.4
Module: Account Provider
Hi friends,
I tried to upgrade a existing NS 6 to NS 7.4 with rsync method. That worked perfectly!
After that I had LDAP account provider and all my users, groups etc.
Than I wanted to upgrade to AD

but that ended up with this failure: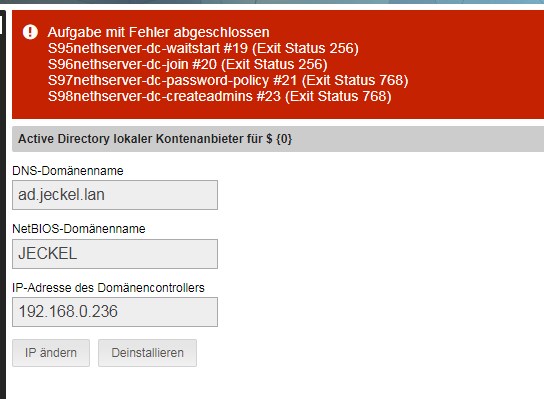 Also the IP of the green LAN wasn't in database, so i had to do db networks setprop br0 ipaddr 192.168.0.xxx and signal-event update-interface.
But I didn't get the sssd to work and the admin interface wasn't reachable also.
Tried it twice, but got two time the same mess. => Is there a Bug in the upgrade script?
TIA Ralf
EDIT: I found that on the ported machine the home directories dont have a user or group. They are reported with unknown user and unknown group. Ldap users are present.