NethServer Version: 7.4.1708 (Final)
Module: restore
Hi Everyone,
I am having some trouble with disaster recovery. I am unable to see in the Nethserver GUI restore section the previous backups I successfully made.
Here is what I did:
-Installed the same version of nethserver on another hardware (7.4) with the same IP and hostname as the old one.
-Logged in as root on terminal, ran yum update and rebooted the server
-Attached the USB harddrive where the full backup was stored (succesfully) every night at 3 by the old server
-Logged in to nethserver GUI, ticked "Skip manual configuration and restore a backup file" and uploaded the backup-config.tar.xz file with the option to install the necessary components. This went on quiet a while and finished successfully. I can see all users and components.
-Checked on backup section if the settings are the same as on old server -> yes, the usb is listed there.
-Clicked on restore section and the drop down menu to select the day I would like all files to have restored from, but realise only 1 day (today) is visible.
-If I run backup-data-list in terminal, it took quiet a while again but listed all the files but I don't see them in the GUI.
-Turned off the server, starting the old server with the backup USB attached. Go to restore section and I can see the dates where successfull backups were made and also the file structure looks complete, not like this below: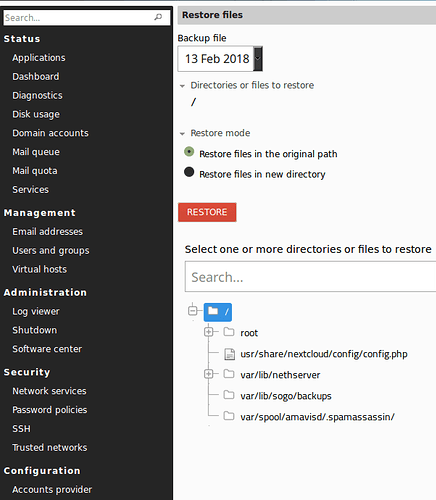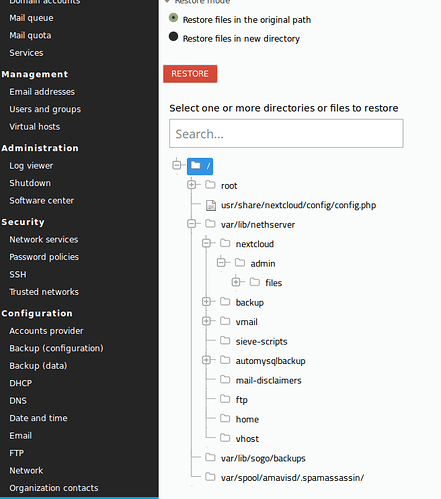 Am I missing something? How can I restore to yesterdays backup, which I know was successfull?