You're using open source software and saving the environment too


I didn't mind recycling it for them at all.

We're looking for other awesome NethServer installations! Let's drop a line here or upload some pics

I have just a flimsy NUC6CAYH at home running nethserver on a 1.75TB HDD with 8GB of RAM. I was very cautious about power consumption (have to pay the bill), while providing a reasonable amount of storage space. It is running within my home network behind my router. Thanks to my ISP I have a 200MBit/s up and 12MBit/s down link.
It hosts a nextcloud, an openvpn server and cups for my printer.
I offer nextcloud space+calendar+address book to all of my friends and family to free them from the grips of Google (aka the "data kraken"). I also want to use it as a home theater, for which purpose I will install a graphical interface later on (yes, I know the words graphical and server should not be used in the same sentence. Please forgive me.)
The vpn is for being safe on the road in those unsecured wifi networks.
We have several devices in the house which I want to print from, but I only have a USB connected printer. So setting up this print server is the obvious choice.
For the backup I bought a Synology disk station which I will set up at my inlaws house. It will connect via vpn into the network. The idea is a logically, technologically and geographically redundant backup system (ligntning strike, fire or flood would take out all systems if located here). It's not finished, yet.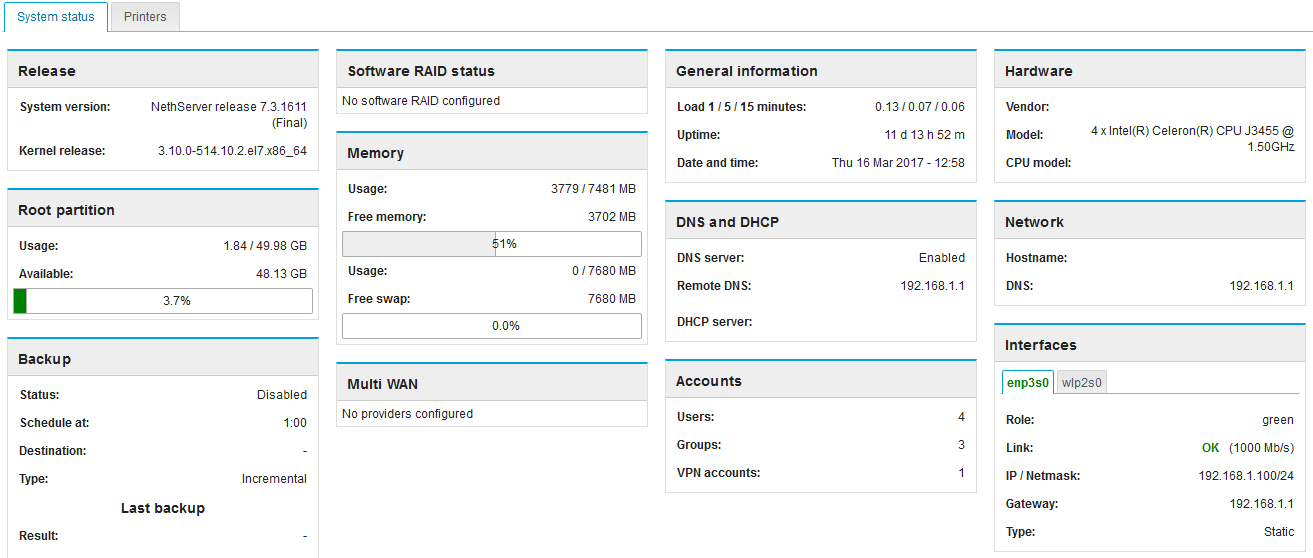 For free? I know people who can ask to be paid for such kind of services. @mamengoni
Joking apart, great example man and thanks for sharing

Yes, for free. I want to host it anyway and I don't mind them sharing. The whole setup cost me about 500€ plus 10€ per month in domain fees and electricity.
However, my first "client" kindly offered a small compensation.

Let's see how that develops.
I'm starting to move from version 6 to version 7.
Rio de Janeiro = Done!
São Paulo = Waiting …
Salvador = Waiting …
Recife = Waiting …
Cajamar = Waiting …
And I will install one more in Curitiba.
Please report your issues here:
I am actually testing Nethserver 7 in a VMware environment on an HP ProLiant MicroServer Gen8 giving 3 GB RAM and 1 Celeron G1610T at 2.3GHz to the virtual system running on a 500GB SSD at home in server mode(only 1 interface). My installed applications/services:
Active Directory, EMail, Fileserver, Jabber, SNMP, BackupPC, Cygwin, FreePBX, Glances, Nextcloud, OCS Inventory NG, PhpLdapAdmin, PhpMyAdmin, PhpPgAdmin, Roundcube Webmail, SOGo Groupware, Samba Audit, Transmission, Urbackup, WebTop
I also installed Labs OMD which means Nagios, Icinga 2, Check_MK etc. via yum…and it WORKED! Fully motivated I created an application tab and it integrated perfectly! I really LOVE Nethserver! This is the linux server I was searching for years because of the great modular concept.
After testing Nethserver now for about 2 months, I intend to use Nethserver in some productive environments in the future.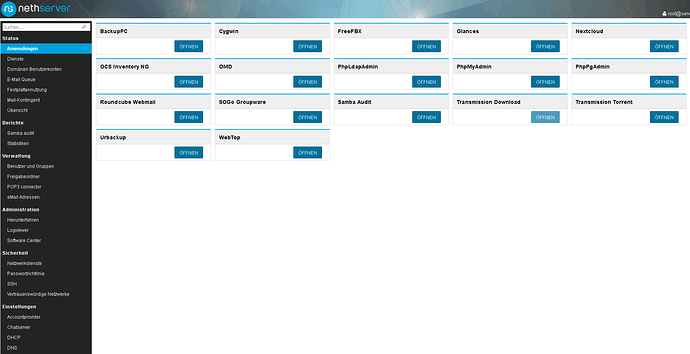 I'm running a Dell Optiplex with 2.93GHz CPU and 4Gb RAM and 1Tb HDD, 2 Nics.
Its the file server,DLNA server and internet gateway for our home.
It also acts as the file server for our small business from from home.
Glad to hear your words, how did you make it? Can you share some code with us? I would be a great example for others
EDIT: Done. Check this out.
Any new installation around? Bumping this old topic

My story so far:
2 NS7 as Firewall/Gateway/OpenVPN/IPSec/Squid/Web Proxy/IPS (two Dell PowerEdge 1950/Intel Xeon/8GB/6 NIC's)

1 NS7 that acts as DHCP/MySQL/PostgreSQL/Virtual Hosts server (HP Compaq Elite 8000(!)/4GB/Intel)

1 NS7 for virtualization - 3 VM currently (ProLiant DL180 G6 16 x Intel Xeon/96GB)

1 NS7 for file sharing (ProLiant ML110 G5)
in nearest future I am wating for another 2 servers - one for VM's, second for Samba4AD - all will be based on NS7

Hi,
I am Mike (new member @mpv) I run a earthing & lightning protection company in Johannesburg South Africa, have for the last 26 years.
Installed my first Smoothwall gateway about twenty four years ago. Moved to IP cop and then employed someone to take care of the IT in the company and he migrated us eventually to PFsense currently.
I haven't been doing much IT work in the last decade and a half so consider myself a comparative newbie, but pleased that I got the system up and running in probably about 10 hours, scattered over the weekend with interruptions.
My wife and I just moved into a house and I choose to advantage my internet connection so while browsing for a firewall came across NS, felt the compatibility with the project, and started installing on Friday, plugged in red and green Sunday afternoon after testing and things going great.
Next is the wireless service, then the printer, then the balance of configuration.
I realize that there are many items to tweak and configure in the variety of packages I have selected and look forward to exploring the capabilities on offer. I hope I find the right documents to read in the manual, guess I should start the little handbook.
Thanks for the hard work and depth of knowledge you dev guys bring to the party.
Warm regards,
Mike
That's what NethServer is all about. It helps you achieve your goals without headaches and "interruptions"

thanks for that