I did'nt want to declare it as a bug because i'm not sure of how i'm doing what…
Basicly I have
one NIC (green)
two network
LAN: 192.168.224.224/27
VMnetwork: 192.168.240.240/28
I want to make a route between my VM's (serve with libvirt on Nethserver)
to be able to use Nethserver as a router for my VM.
All VM are able to communicate to the outside world
it's from outside world (LAN+Nethserver CLI) to my VM didn't communicate.
So I add a (in a potential order)
interface inside libvirt
trusted network
static route
reboot
cry
with ip r ou route -n I don't see my route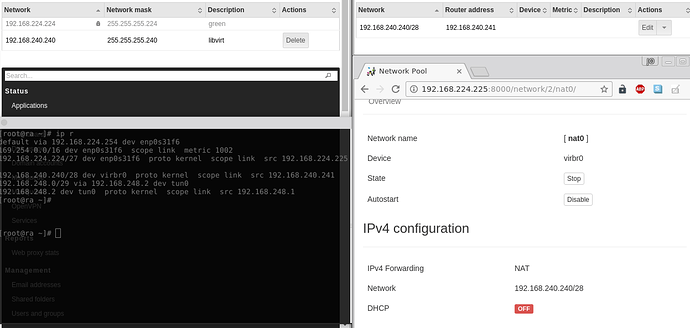 Someones know why and or how to do it ?
Gracias!
Jonathan