Hi
Please help to recommend config restricting certain users from Sending/Receiving external Mails
Thank you
Currently we don't have this feature yet, I'd like to prevent some senders/users to send external emails.
We'll try to fast-track this feature after the 7 final release

We already have the "receiving" part trough the "Visible internal" feature
Has this been implemented? I need to do this, only restricting sending out though, not modifying receiving.
I believe that this has been implemented!
If you go to the admin webinterface https://yourserver:980 and you log in as administrator/root/…
Then go to Management -> emailadresses
There you will find an overview of mailboxes that are configured on your system.
If you click the edit button of a certain mailbox, you will see a few checkboxes. One of them is "local network only"
If you check this box, the account can not receive or send to external domains.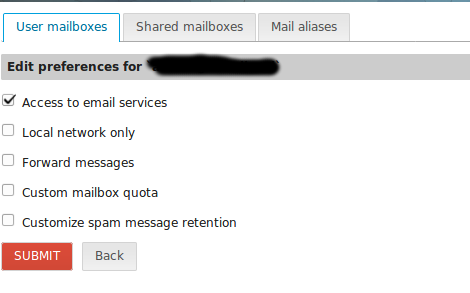 Thank you, I want them to still be able to receive external email, just not send it.
Having tried it, I am still able to send external emails, which is the only think I'm trying to disallow… little help please