I quick question, related to proxmox + nas + vm/windows+sqlserver
Imagine that I need to restart the NAS where the vm is stored.
I wonder if I can pause each VMs running on proxmox+nas and wait for the nas to reboot, then just unpause the VMs without any loss? Especially for those VMs running sql server.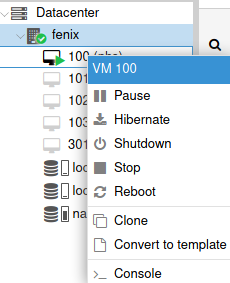 Regards
BTW, I have a test VM (windows 2012 r2 + sql server 2008 r2) , that I paused for some minutes, even days and I remember to not perceived any bad effect; of course, the vm is almost not used by anyone just for me for some migrations test.
I'm preparing for when I use a productive VM for our payroll system. (w201x+sql201x)
---
On second thought, I think the most sensible thing would be to turn off the MV and not play with fire.
I was curious, because just tonight I need to restart the NAS, to see if it shows an application I installed that doesn't show up to assign permissions.
---
Sorry for highjacking this topic.