Hi all,
I'm using the module nethserver-pihole made by @stephdl and it works like a charm.
Today, I've updated the docker container as I do regularly, but afterwards, pihole did not came up the way it used to do:
pihole status reported the container in state unhealthy
WebUI showed in top-left status "DNS service not running"
Attaching to the container's commandline to check and restart FTL inside the container did not work, either

Still inside the container's bash, displaying the log file finally gave a hint:
tail -f /var/log/pihole-FTL.log
[...snip...]
[2022-03-26 09:34:53.421 11844M]  -> Unique clients: 0
[2022-03-26 09:34:53.421 11844M]  -> Known forward destinations: 0
[2022-03-26 09:34:53.421 11844M] Successfully accessed setupVars.conf
[2022-03-26 09:34:53.423 11844M] FATAL ERROR in dnsmasq core: failed to create listening socket for port 53: Permission denied
[2022-03-26 09:34:53.432 11844M] ########## FTL terminated after 57ms  (code 1)! ##########

After some research, I've found out that there was an upstream change in Januar 2022 (Release 2022.01 · pi-hole/docker-pi-hole · GitHub) in regard to the user running FTL inside the container (formerly: root since 01/22: pihole)
I've borrowed a workaround from the following Github-Issue:
Docker on Synology keeps stopping with Failed to set capabilities for pihole-FTL. Cannot run as non-root. · Issue #963 · pi-hole/docker-pi-hole · GitHub
Summary: Add the variable DNSMASQ_USER=root to the docker environment.
The following surely is not the best or most elegant way to achieve a running instance on Nethserver, but the only way I managed to think of in my need to get it up running again. @stephdl May it be possible that you include this change inside nethserver-pihole?
1. open the e-smith action file in an editor
nano /etc/e-smith/events/actions/nethserver-pihole-docker-creation
2. insert the line
-e DNSMASQ_USER=root\
in each invocation of docker run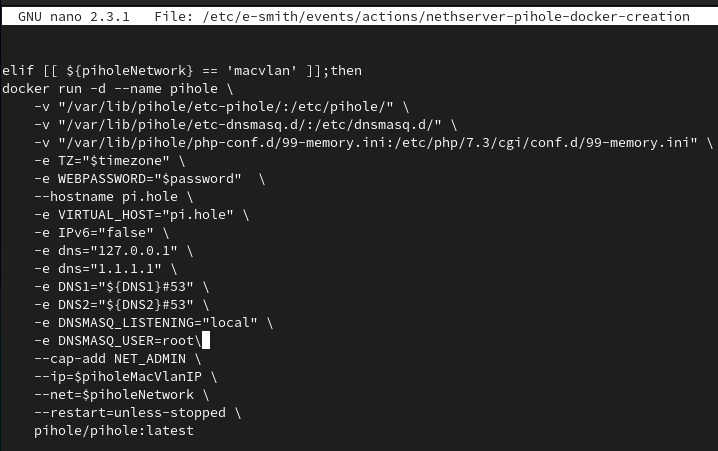 3. save an force upgrade of pihole-container
pihole upgrade
4. watch it boot
[root@nethserver ~]# pihole bash
root@pi:/# tail -f /var/log/pihole-FTL.log


Hopefully this helps in case of an "emergency"

However, I'm sure this cannot be the final solution for it!