I currently use P3Scan to pull e-mails from an external pop-provider and have a couple of questions regarding the virus scanning and spam detection.
Recently I've had a couple of e-mails wrongly flagged as a virus, which means I only get the notification page, instead of the mail. I wanted to report these to Sanesecurity as false positives, but it appears that the original mail is just dropped. Is it possible to quarantine these mails instead.
Also, is there a way to select which signatures are used.
For spam, I have the following settings: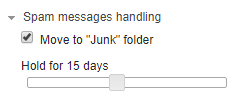 However, I cannot find any Junk folder, nor do I ever get any messages with the prefix added, so I'm not sure what's happening to the mails with a score between 5 and 15 as I can't really believe that I don't get any slightly-questionable mails.
Cheers.
Eddie