Ciao guys,
with basic knowledge of networks I wanted to rely on nethserver to configure my home network
Can you explain me what kind of network/address I need to configure to start openvpn roadwarrior?
On the online docs there isn't lot detail in this field. (can be that i miss some knowledge)
if I try to use ip already used i got the error response.


Also if i use new network and submaski got "invalid network" error response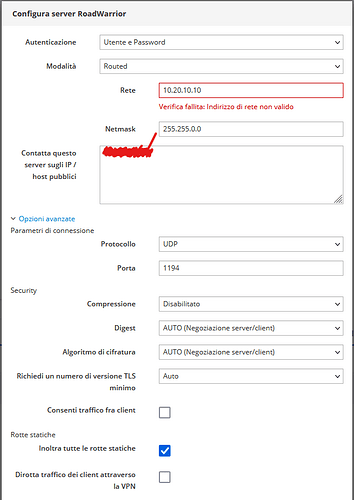 my network is so basic

Kernel IP routing table
Destination     Gateway         Genmask         Flags Metric Ref    Use Iface
0.0.0.0         192.168.1.254   0.0.0.0         UG    0      0        0 eno1
10.10.0.0       0.0.0.0         255.255.0.0     U     0      0        0 br0
172.17.0.0      0.0.0.0         255.255.0.0     U     0      0        0 docker0
172.18.0.0      0.0.0.0         255.255.0.0     U     0      0        0 br-0abf630b54db
172.19.0.0      0.0.0.0         255.255.0.0     U     0      0        0 br-806265c2737b
172.21.0.0      0.0.0.0         255.255.0.0     U     0      0        0 br-6662dd6eb688
172.28.0.0      0.0.0.0         255.255.0.0     U     0      0        0 aqua0
192.168.1.0     0.0.0.0         255.255.255.0   U     0      0        0 eno1

it should be a "stupid" problem but I haven't come up with it for days

NethServer Version: 7.9.2009 (final)
Module: OpenVPN roadwarrior