Clean minimal Rocky install.
So I add a user. Not sure what I can do with him as he can't log on at a terminal. He can't log on to the web page, even after I promote him to a Domain Admin.
Going back to a terminal, root can no longer log on to administer the OS. *** Update *** Ignore this, stupid operator error.
Create a Samba share. Go over to my Windows, and yes, it can be seen: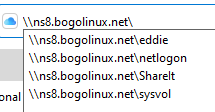 Try and connect to it. Ooops:

Finished playing around, so let's shut down the VM. Oh dear, there's no shutdown to be found on the Admin web pages and I can't log in via a terminal any more.
Cheers, (with my tongue firmly in my cheek),