This really isn't difficult–send a warning before subscriptions expire!
I think this would help much people.
cc:@giacomo
You are absolutely right, we need to implement a way to notify the subscription expiration.
As you may know, we thought we had an year to complete the development after launching the subscription program, but we were a bit disappointed by the numbers and we almost forgot about it.
Last February, during FOSDEM, we decided to try to revive the program, but we still haven't found the resources.
We still have some work on our plate before we can work on the subscription program version 2.0.
Ha, this made me check mine also to find out it expires tomorrow.
BTW How can I find what e-mail is associated with my subscription.
Cheers.
Bump… I just realized my subscription was overdue and left with a broken update system.
After renewing the subscription (btw this went flawless!!) I could update my server again.
Please place a warning message/mail for running out of subscription a bit higher on your to-do list.
This a screenshot of development plans for the next 7 months: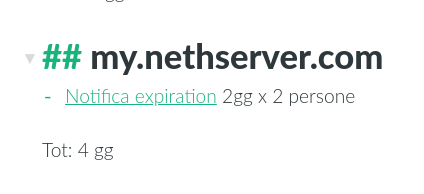 It says: Expiration notification, estimated type: 2 people for 2 days.
So it will be done in the next 7 months, but I can't tell exactly when.

That was much much much faster then I expected. @edoardo_spadoni jumped it and … notifications will start flowing since tomorrow! Kudos to Edoardo!

This in example: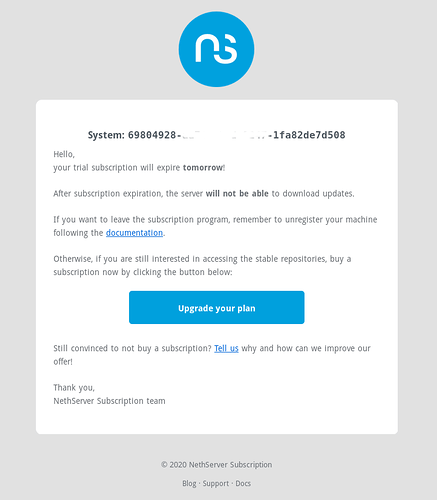 Currently notifications are sent differently for:
trial users will receive 3 mails: 2 weeks, 1 week and 1 day before expiration
paying users will receive 2 mails: 1 week and 1 day before expiration
The mail will also contain information about how to un-register the machine if the user want to quit the subscription program!
/cc @flatspin
Perfect!! Thank you!
Brilliant! Thanks for the effort.
May i suggst to "align" to 1 month for both kind of users?