NethServer Version: 7.9.2009
Module: network
Hi,
Nethserver is pretty new to me, so I'm here for a little help, thx.
I have configured a LAN (green) port, it works fine, but when I configure a WAN (red) port the Nethserver doesn't have internet access at all. I'm able to reach it on the green port ip, I can manage it but it reports that the dns server is unreachable and no internet on it at all.
[root@ad ~]# lspci |grep Ethernet
01:00.0 Ethernet controller: Broadcom Inc. and subsidiaries NetXtreme BCM5720 2-port Gigabit Ethernet PCIe
01:00.1 Ethernet controller: Broadcom Inc. and subsidiaries NetXtreme BCM5720 2-port Gigabit Ethernet PCIe
02:00.0 Ethernet controller: Broadcom Inc. and subsidiaries NetXtreme BCM5720 2-port Gigabit Ethernet PCIe
02:00.1 Ethernet controller: Broadcom Inc. and subsidiaries NetXtreme BCM5720 2-port Gigabit Ethernet PCIe
82:00.0 Ethernet controller: Intel Corporation 82599ES 10-Gigabit SFI/SFP+ Network Connection (rev 01)
82:00.1 Ethernet controller: Intel Corporation 82599ES 10-Gigabit SFI/SFP+ Network Connection (rev 01)

[root@ad ~]# db networks show
br0=bridge
    bootproto=none
    gateway=
    ipaddr=192.168.100.56
    netmask=255.255.255.0
    nslabel=
    role=green
em1=ethernet
    bootproto=none
    gateway=94.21.0.1
    ipaddr=94.21.1.97
    netmask=255.255.255.192
    nslabel=
    role=red
em2=ethernet
    role=
em3=ethernet
    role=
em4=ethernet
    role=
p4p1=ethernet
    bridge=br0
    role=bridged
p4p2=ethernet
    role=
ppp0=xdsl-disabled
    AuthType=auto
    FwInBandwidth=
    FwOutBandwidth=
    Password=
    name=PPPoE
    provider=xDSL provider
    role=red
    user=
red1=provider
    interface=em1
    weight=1

[root@ad ~]# ping 8.8.8.8
connect: Network is unreachable

[root@ad ~]# traceroute cnn.com
traceroute to cnn.com (151.101.1.67), 30 hops max, 60 byte packets
connect: Network is unreachable

[root@ad ~]# nslookup cnn.com
Server:         127.0.0.1
Address:        127.0.0.1#53

Non-authoritative answer:
Name:   cnn.com
Address: 151.101.129.67
Name:   cnn.com
Address: 151.101.65.67
Name:   cnn.com
Address: 151.101.193.67
Name:   cnn.com
Address: 151.101.1.67
Name:   cnn.com
Address: 2a04:4e42:600::323
Name:   cnn.com
Address: 2a04:4e42:400::323
Name:   cnn.com
Address: 2a04:4e42:200::323
Name:   cnn.com
Address: 2a04:4e42::323

[root@ad ~]#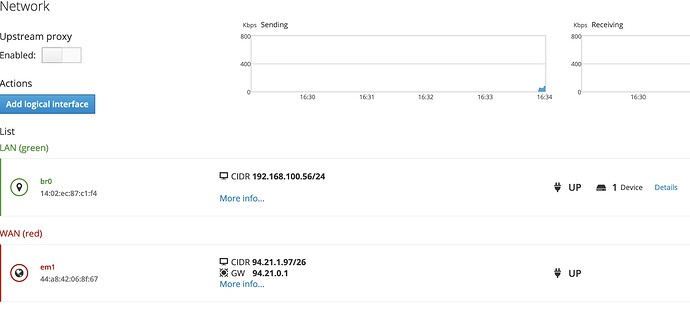 What am I missing?
Thx
best regards