Hello everybody.
I have new setup warnings with my Nextcloud configuration.
Probably they were created during an update.
Everything works, however.
At least as far as I can tell.
With Nextcloud, however, I am particularly careful and shy away from repairs myself, because the Nethserver developers probably preconfigure a large part of this.
I don't want to interfere with that.
Do I have to take action here, or will it be cleaned up with the next update? See photo.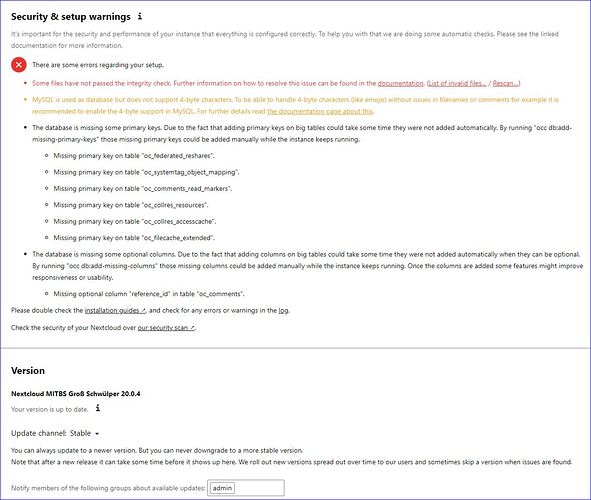 Otherwise, Nextcloud is always very slow.
Although the application runs as a VM on a fast ESX host with Opteron CPUs.
The four assigned cores are also underutilized.
More cores would probably not help.
Server:
|Operating System:|Linux 3.10.0-1160.11.1.el7.x86_64 x86_64|
|CPU:|AMD Opteron™ Processor 6174 (4 cores)|
|Memory:|15.51 GB|
PHP
Version: 7.3.20
Memory Limit: 512 MB
Max Execution Time: 3600
Upload max size: 2 MB
Type: mysql
Version: 5.5.68
Size: 509 MB
Thx