NethServer Version: 7.4
Module: ?
Opened the gui to see;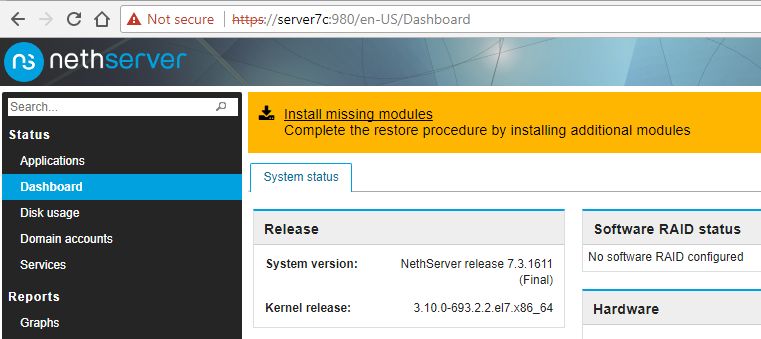 This is v7.4, note pic shows 7.3 but it was updated to 7.4 last week, it's just not showing it.
Messages log shows an error during last nights backup, though the backup, apparently, successfully completed.
I guess it goes without saying that because this is a production server, I'm a little concerned.
Anyone have any input?
Oct  3 21:00:02 server7c esmith::event[12910]: Event: pre-backup-data
Oct  3 21:00:02 server7c esmith::event[12913]: Event: pre-backup-config
Oct  3 21:00:02 server7c esmith::event[12913]: expanding /etc/backup-config.d/nethserver-sssd.include
Oct  3 21:00:03 server7c dbus[682]: [system] Activating via systemd: service name='org.freedesktop.timedate1' unit='dbus-org.freedesktop.timedate1.service'
Oct  3 21:00:03 server7c dbus-daemon: dbus[682]: [system] Activating via systemd: service name='org.freedesktop.timedate1' unit='dbus-org.freedesktop.timedate1.service'
Oct  3 21:00:03 server7c systemd: Starting Time & Date Service...
Oct  3 21:00:03 server7c dbus[682]: [system] Successfully activated service 'org.freedesktop.timedate1'
Oct  3 21:00:03 server7c dbus-daemon: dbus[682]: [system] Successfully activated service 'org.freedesktop.timedate1'
Oct  3 21:00:03 server7c systemd: Started Time & Date Service.
Oct  3 21:00:03 server7c esmith::event[12913]: Action: /etc/e-smith/events/actions/generic_template_expand SUCCESS [0.596119]
Oct  3 21:00:05 server7c esmith::event[12913]: Action: /etc/e-smith/events/pre-backup-config/S40nethserver-dc-pre-backup SUCCESS [2.450877]
Oct  3 21:00:05 server7c esmith::event[12913]: Action: /etc/e-smith/events/pre-backup-config/S40nethserver-sssd-backup-tdb SUCCESS [0.051204]
Oct  3 21:00:05 server7c esmith::event[12913]: error: rpmdb: BDB0113 Thread/process 2691/140578306205696 failed: BDB1507 Thread died in Berkeley DB library
Oct  3 21:00:05 server7c esmith::event[12913]: error: db5 error(-30973) from dbenv->failchk: BDB0087 DB_RUNRECOVERY: Fatal error, run database recovery
Oct  3 21:00:05 server7c esmith::event[12913]: error: cannot open Packages index using db5 -  (-30973)
Oct  3 21:00:05 server7c esmith::event[12913]: error: cannot open Packages database in /var/lib/rpm
Oct  3 21:00:05 server7c esmith::event[12913]: error: rpmdb: BDB0113 Thread/process 2691/140578306205696 failed: BDB1507 Thread died in Berkeley DB library

…
Oct  3 21:00:06 server7c esmith::event[12913]: error: cannot open Packages database in /var/lib/rpm
Oct  3 21:00:06 server7c esmith::event[12913]: error: rpmdb: BDB0113 Thread/process 2691/140578306205696 failed: BDB1507 Thread died in Berkeley DB library
Oct  3 21:00:06 server7c esmith::event[12913]: error: db5 error(-30973) from dbenv->failchk: BDB0087 DB_RUNRECOVERY: Fatal error, run database recovery
Oct  3 21:00:06 server7c esmith::event[12913]: error: cannot open Packages database in /var/lib/rpm
Oct  3 21:00:06 server7c esmith::event[12913]: Action: /etc/e-smith/events/pre-backup-config/S50nethserver-backup-config-list-packages SUCCESS [0.303938]
Oct  3 21:00:06 server7c esmith::event[12913]: Event: pre-backup-config SUCCESS
Oct  3 21:00:15 server7c esmith::event[13219]: Event: post-backup-config
Oct  3 21:00:16 server7c esmith::event[13219]: Action: /etc/e-smith/events/post-backup-config/S40nethserver-dc-post-backup SUCCESS [0.07204]
Oct  3 21:00:16 server7c esmith::event[13219]: Event: post-backup-config SUCCESS
Oct  3 21:00:16 server7c esmith::event[12910]: Action: /etc/e-smith/events/pre-backup-data/S20nethserver-backup-config-predatabackup SUCCESS [13.824295]
Oct  3 21:00:32 server7c esmith::event[12910]: Requested path not found
Oct  3 21:00:32 server7c esmith::event[12910]: Action: /etc/e-smith/events/pre-backup-data/S20nethserver-restore-data-duc-index SUCCESS [16.767872]
Oct  3 21:00:35 server7c esmith::event[12910]: Action: /etc/e-smith/events/pre-backup-data/S50mysql-dump-tables SUCCESS [2.499959]
Oct  3 21:00:35 server7c esmith::event[12910]: Action: /etc/e-smith/events/pre-backup-data/S50nethserver-ibays-dump-acls SUCCESS [0.102939]
Oct  3 21:00:35 server7c kernel: Key type dns_resolver registered
Oct  3 21:00:35 server7c kernel: Key type cifs.spnego registered
Oct  3 21:00:35 server7c kernel: Key type cifs.idmap registered
Oct  3 21:00:35 server7c esmith::event[12910]: Action: /etc/e-smith/events/pre-backup-data/S70mount-cifs SUCCESS [0.450621]
Oct  3 21:00:36 server7c esmith::event[12910]: Action: /etc/e-smith/events/pre-backup-data/S70mount-nfs SUCCESS [0.249375]
Oct  3 21:00:36 server7c esmith::event[12910]: Action: /etc/e-smith/events/pre-backup-data/S70mount-usb SUCCESS [0.250161]
Oct  3 21:00:36 server7c esmith::event[12910]: Action: /etc/e-smith/events/pre-backup-data/S70mount-webdav SUCCESS [0.245629]
Oct  3 21:00:36 server7c esmith::event[12910]: Event: pre-backup-data SUCCESS
Oct  3 21:01:01 server7c systemd: Started Session 26 of user root.
Oct  3 21:01:01 server7c systemd: Starting Session 26 of user root.
Oct  3 21:01:07 server7c esmith::event[13406]: Event: post-backup-data
Oct  3 21:01:08 server7c esmith::event[13406]: Action: /etc/e-smith/events/post-backup-data/S20nethserver-backup-config-push2history SUCCESS [1.603882]
Oct  3 21:01:09 server7c esmith::event[13406]: Action: /etc/e-smith/events/post-backup-data/S20nethserver-backup-config-push2mount SUCCESS [0.576697]
Oct  3 21:01:09 server7c esmith::event[13406]: Action: /etc/e-smith/events/post-backup-data/S50mysql-delete-dumped-tables SUCCESS [0.054116]
Oct  3 21:01:12 server7c esmith::event[13406]: Action: /etc/e-smith/events/post-backup-data/S70cleanup-data-duplicity SUCCESS [3.233301]
Oct  3 21:01:13 server7c esmith::event[13406]: Action: /etc/e-smith/events/post-backup-data/S70cleanup-restore-index SUCCESS [0.329935]
Oct  3 21:01:13 server7c esmith::event[13406]: Action: /etc/e-smith/events/post-backup-data/S70disk-usage SUCCESS [0.285745]
Oct  3 21:01:13 server7c esmith::event[13406]: Action: /etc/e-smith/events/post-backup-data/S80umount-cifs SUCCESS [0.452341]
Oct  3 21:01:14 server7c esmith::event[13406]: Action: /etc/e-smith/events/post-backup-data/S80umount-nfs SUCCESS [0.246001]
Oct  3 21:01:14 server7c esmith::event[13406]: Action: /etc/e-smith/events/post-backup-data/S80umount-usb SUCCESS [0.24882]
Oct  3 21:01:14 server7c esmith::event[13406]: Action: /etc/e-smith/events/post-backup-data/S80umount-webdav SUCCESS [0.250565]
Oct  3 21:01:14 server7c esmith::event[13406]: Event: post-backup-data SUCCESS