NS 7.4 final
Hi,
nethserver-sssd-remove-provider doesn't handle the accentuated characters correctly when creating users.tsv and groups.tsv.
The file's charset is unknown,
file -i users.tsv 
users.tsv: text/plain; charset=unknown-8bit

Actually the contents looks like a mixup of Latin1 and UTF-8. Please try with names containing apostrophes ( ' ) and accents ( é è ç, …)
The apostrophe looks coded as UTF-8, while the accentuated chars are in latin1. See screenshots.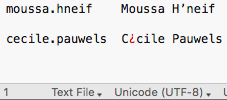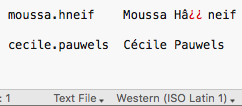 Txs