NethServer 7.5 (RC)
Module: nethserver-dc
Hello! I am trying to bind a Nethserver to a domain controller through an OpenVPN tunnel.
My scenario is as follows:
Nethserver 1 (Cloud Vivo)
IP: 192.168.1.101
Mask: 255.255.255.255
Nethserver 2 (Local) - DC
IP: 10.0.5.1
Mask: 255.255.0.0
Nethserver 3 - Firewall
IP: 10.0.0.2
Mask: 255.255.0.0
Range VPN:
10.10.1.0/24
The VPN is closed between Server 1 and Server 3 (Firewall), in the same I have set the DC IP as DNS and Google as secondary.
On server 1 I have set the IP of the firewall as DNS and I can communicate normally through the VPN with the DC server, but when trying to join the domain happens failure.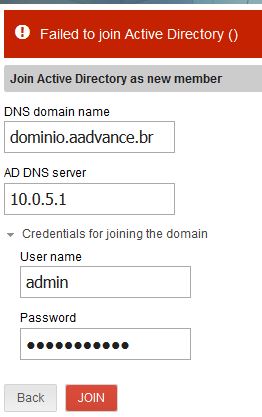 Any tips?