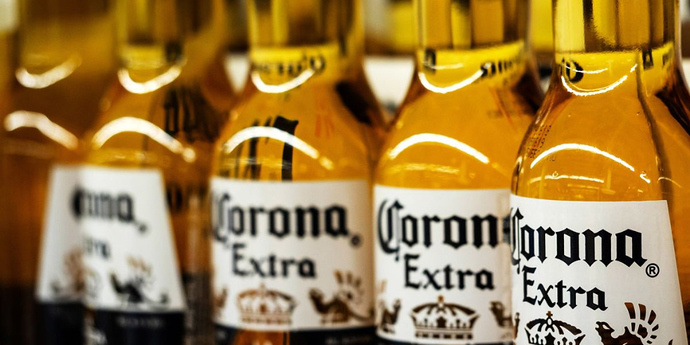 We're happy to announce that NethServer 7.8 "Corona Edition" is publicly available.
What's new?
This release marks a big step forward for communication, collaboration and security, introducing:
Cockpit is now the default administration interface
New user preference panel
Two-factor authentication
SSH/SFTP access policy
Disaster recovery without network restore
Threat shield
Many updates on OpenVPN
Enhancements for the Email Server module
Updates for WebTop, Nextcloud and Mattermost
We're confident that it will be as always a great release and it will achieve our mission: making sysadmin's life easier. This is thanks to the most vibrant, supportive and friendly community in the Open Source space (and not only Open Source).
About NethServer
NethServer is an Open Source operating system designed for small offices, medium enterprises and home server. It's simple, secure and flexible.
NethServer is ready to deliver your messages, to protect your network with the built-in firewall, share your files and much more, everything on one system.
Release highlights
Many new features were added since the last NethServer ISO was released, they are all available within NethServer 7.8. Let's see the most important improvements.
New security improvements
We added many features such as:
new user settings page with 2FA and password change
improved SSH/SFTP policy
threat shield
More info here

VPN updates and new features
Subnet topology for OpenVPN RoadWarrior
With this new option you can use all IPs into the subnet without limitations
There is a new field in the advanced options: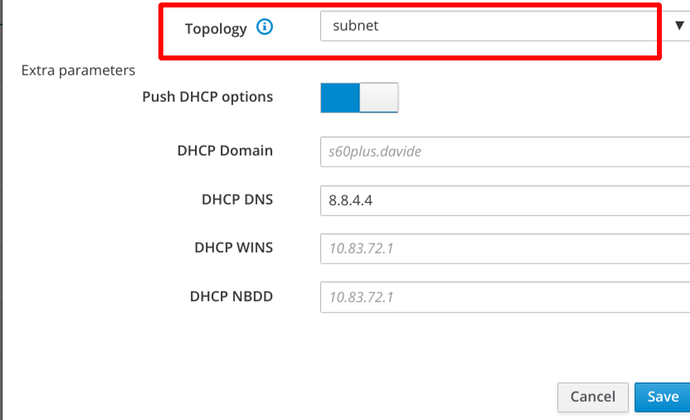 Traffic management Inter-VPN
We added a new checkbox to allow traffic between OpenVPN roadwarrior, OpenVPN and IPsec tunnels. Now a Roadwarrior client can reach a remote network connected with a VPN tunnel.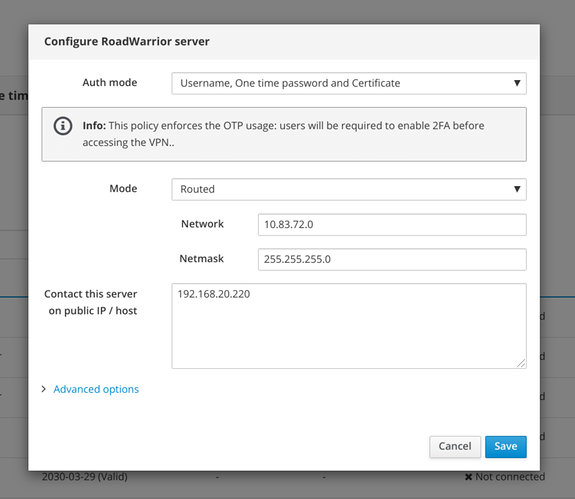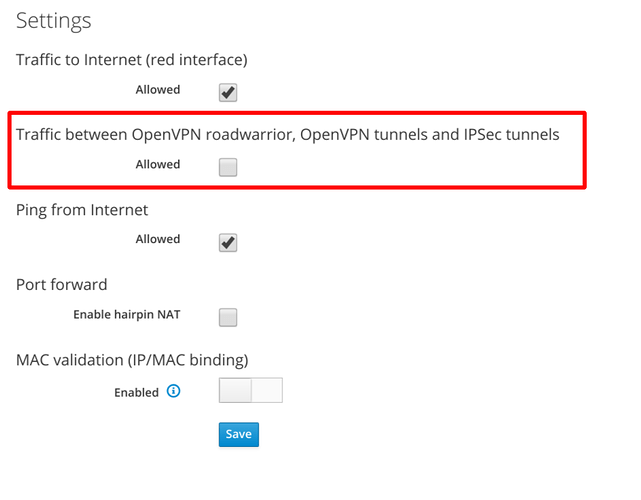 OTP authentication for OpenVPN RoadWarrior
We have enhanced VPN security adding a new OTP authentication. Users can use an OTP code to replace the VPN password. The OTP can be found in the new user settings panel.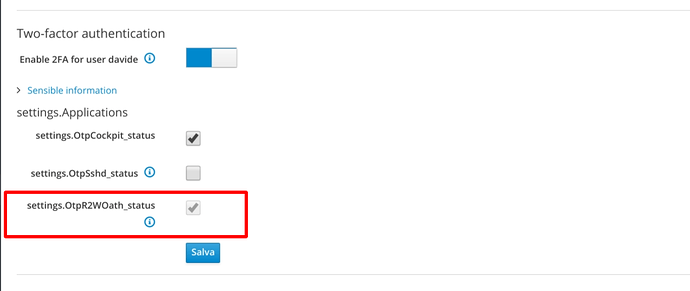 RoadWarrior account certificate with customizable expire date
We added accounts with a customizable expiration date, very useful if you need to create a temporary VPN for an external collaborator.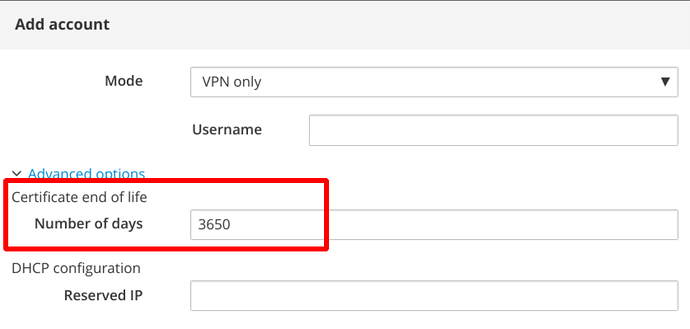 Export VPN connection history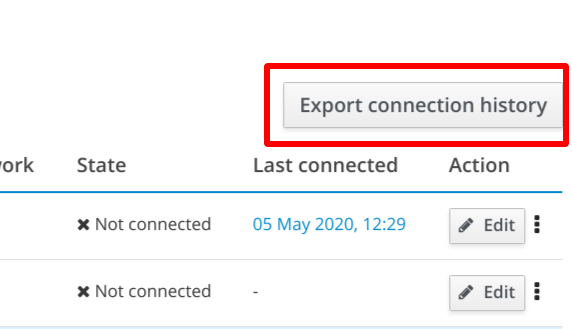 Improved DHCP parameters for VPN Roadwarrior
NethServer can automatically push DHCP parameters and they are now visible into the panel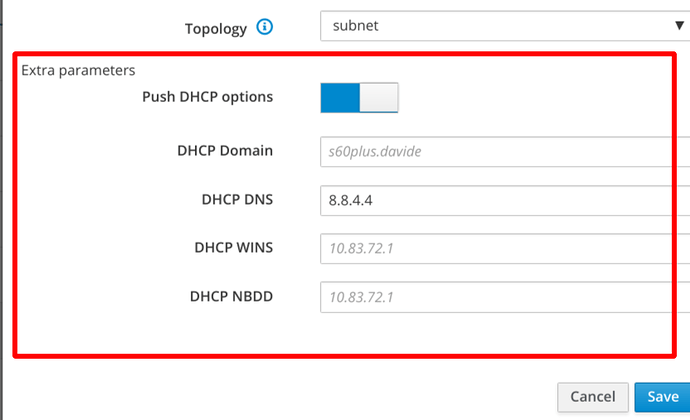 Last versions of our applications
Webtop 5.8.4
Mattermost 5.22
NextCloud 18.0.4
Mailserver updates
All IMAP actions will be logged by default into /var/log/imap
Mail server connection limit for each user has been increased to avoid errors on web mail clients
Shared seen flag is enabled by default for shared mail folders
Disaster recovery without network
How many times did you need to move a machine from a VPS provider to another? Well, you may have faced the problem: after restoring, the machine has a wrong network configuration and can't be reached any longer.
You can now restore a configuration backup while preserving current network configuration: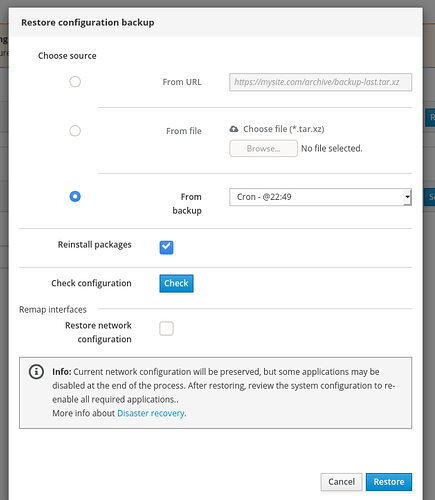 Basic network configuration recovery tool
The network-recovery command is now available immediately after installing the 7.8 ISO. If you want to wipe out your running IP configuration and assign a temporary IP address on every network card, run on the system console
# network-recovery

The goal is to make the Server Manager reachable again without knowing the right commands

Other improvements
Group-based access restrictions for SSH and SFTP
Default maximum PHP memory size has been increased from 128MB to 512MB
Nextcloud now uses PHP 7.3 stack to improve performance and support widely used plugins
Ejabberd has been upgraded to 20.03
POP3 proxy (P3Scan) has been deprecated and can't be installed anymore from Software Center
PHP 7.1 is now obsolete and has been removed from upstream repositories: restored machines will need to migrate custom applications to PHP 7.2 or higher
Download and install
Who wouldn't desire all these fantastic new features?
You can install NethServer on a virtual machine or on a bare-metal server using a DVD or USB stick
Upgrade from 7 is supported through the Software Center
Automatic upgrades to 7.8 for #

subscription

have been already rolled out
Ready to check it out? Then head to the docs and download:
https://www.nethserver.org/getting-started-with-nethserver/
Subscription
Get exclusive access to the Stable Updates repository, monitoring tools and immediate professional support services for your NethServer deployments


Take a look at our plans
https://my.nethserver.com/
Documentation
Did you find a bug? Please report it here – every bug you uncover is a chance to improve the experience for thousands of NethServer users worldwide, also our amazing beta testers team will be called upon to give its support on that!