Any chance this module ever integrates with system users (or users from AD join), or will the MM limitation always prevent this?
It's a limitation of MM itself. If the upstream project opens up the code, we will surely integrate it.
I don't understand.
Should I create the virtual host myself ? If yes, what would be the configuration ? I tried here but the only result I get is Nethserver's default welcome page.
The module will create a virtual host for mattermost but it will be not visible from the web interface.
Make sure you access the application using the entered virtual host: your machine needs to resolve it.
If you encounter any problem, please post relevant logs.
All right, it's working now. It didn't at first try, this is why I tried creating the virtual host.
Looks promising !!
I've got this up and running on my server. It works pretty well at the moment.
It seemed a bit wonky when I first set it up - I had to submit the form for a new account probably a dozen times before it went through, and clicking on links was generally hit or miss. Adding the Mattermost hostname as a server alias under DNS seems to have fixed this issue.
For TLS, I have edited the settings on the Virtual Host to use the correct certificate, and kept the the Mattermost TLS off. I tried using the Mattermost settings, but it doesn't seem to play well with the Virtual Host.
After looking for a while on other solutions (Zapier, Matrix, Rocket Chat), we think that Mattermost is the easiest and robust Team Chat for NethServer.
The package is ready for QA for anyone!
Yes I want to revive this topic because we have a new package to test, with Mattermost 5.12 freshly backed by @giacomo.
Who wants to test it?
new install:
yum --enablerepo=nethserver-testing install nethserver-mattermost

update
yum --enablerepo=nethserver-testing update nethserver-mattermost
More information:
OK, I was really thinking, NS is a stable super complete Server, but I have to say, putting Mattermost into it is genius. I love it and we already use it in production.
Thank you so much for your work.
Another great job done.
I already updated some weeks ago:
Mattermost Enterprise Edition
Modern communication from behind your firewall.
Mattermost Version: 5.12.2
Database Schema Version: 5.12.0
Database: postgres
But Rocket Chat has LDAP Integration and i think that it has all the mattermost features.
What do you consider to have mattermost than rocket chat no?
@uebmaster
I think there is not that much difference. Both applications will 'do the job' as a corporate communications tool. I'd love to see a rocketchat module for NethServer. If you want you could try to install it and please document your steps so more members can try.
i am noob, I saw that some people contribute modules but really do not know how they do it, it's just a matter of installing the software as you normally would or is there some kind of specific syntax of the nethserver distro?
i have seen ldap settings on mattermost config json.
so am curious if when configured it will actually work.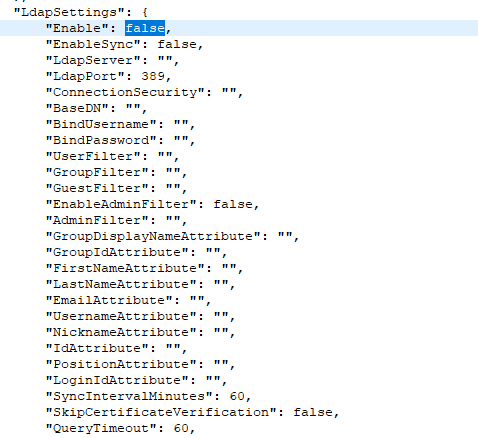 Mattermost with LDAP Sync is a paid product.