Any plans for … next Mattermost update?
Thank you for pointing out, it's on my todo list but didn't have time to work on it.
If you want, you could just try the RPM from this pull request that I've just created.
Feedback is welcome!
I'd go for 7.7.2 if happens.
An important fix was released for 7.7.1, and i love bugfixed releases…
I've tested 7.7.1 and seems to work well, but I'd like a test from someone else other than me
Which one? I can't find it
Not fair, @dnutan… with the tags the title of the topic made sense! I did not changed tags

(just kidding')
I updated twice the opened session AFTER the update and i saw… 7.7.0. Now on the "about" is 7.7.0. (beliefs to be Enterprise Edition but is a fresh install… maybe after trial will go back to team edition)
It should be 7.7.1…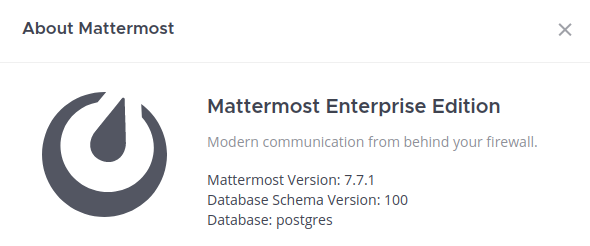 Maybe the update is not distributed to all mirrors yet. Please check your installed version:
[root@server2 ~]# rpm -qa nethserver-mattermost
nethserver-mattermost-1.8.19-1.ns7.x86_64

To install from main mirror:
yum install http://mirror.nethserver.org/nethserver/7.9.2009/updates/x86_64/Packages/nethserver-mattermost-1.8.19-1.ns7.x86_64.rpm
Again, my bad, incorrect wording. After your post I verified again and I found 7.7.1 as you told.
It is 7.7.1. Tomorrow i will keep playing during the morning, afternoon for PFSense.
Full agenda
You have no idea. Saturday it's almost triple shift…

And this what clicked in me for "7.7.0"
Into Boards section, i have "give a feedback for 7.7.0". Cosmetic issue not solved from Mattermost? IDK.
Other persons have the same label? Currently did not provide any feedback for Boards, into Mattermost.