NethServer Version: 7.9.2009
Module: Email
I am using NethServer in a VM under FreeNAS system. It is allocated 512MB RAM as its main purpose is simple routing for my home network.
I have installed "Email" from Applications to test and see what I can do with it. Now, I checked all I want and I would like to remove everything related with these packages installed.
I login as root, go to Applications, click on hamburger menu, choose remove
At that point all I see is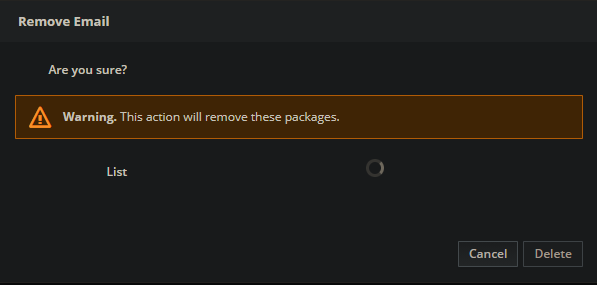 That screen stays like forever and never complete what ever it is doing. I can click Cancel button and screen goes off. Delete button is not enabled and cannot be clicked. When I click cancel Email stays installed. I do not have a lot of packages installed.


I already tried to install all updates including the one released today. Unfortunately, I could not remove Email from my system using GUI.
Now, I would like to do that using command prompt. I do not know what package(s) I should be removing and exact command line with parameters.
Any help is appreciated.
Thanks & Regards,
Ertan