Will do it tonight at home

Hi friend you'll have the logos in svg? to create t-shirts.

You're right we need them

what can we do @Alessandro_Gaggiano?
That's so cute! Kiss to your daughter!
Hey guys what do you think To print the image "i love NethServer" above take a selfie with it and upload here the photo? Just 2 minutes

Colors cartridges of my inkjet are empty

I have printed too many Angry Birds Transformers in A4 sheets size to my son!
I will buy them this afternoon!
I

NethServer
Me and my little kid with our nethserver running
El mar 21, 2015 11:35 AM, "Alessio Fattorini" <
alessio.fattorini@nethserver.org> escribió: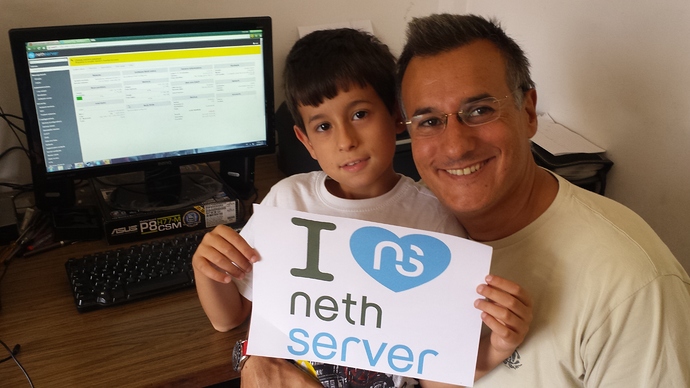 Picture in the making


In the mean time, you could reshare my post on Diaspora https://pod.orkz.net/posts/1932631
Yeah Jelle! Look at you!! Ahahah thank you so much for be part of this funny game. I gonna share your diaspora post!


Ok guys , I think we have to celebrate the release but also highlight that it is a secure system…
At the moment I'm not sure to be able to create it in SVG format, but i can certainly get it in high resolution JPG…
The other one (svg) will come in a few days.
I love this picture! Viva King Arthur!
@Alessandro_Gaggiano a great dane (wonderful) and an autobot, nothing else is best to highlight security