Yesterday I updated our production server to the latest set of packages pushed from upstream (6.8 …?).
The upgrade went on well if not for one small problem with the configuration of Hylafax.
The WEB GUI is set up as follow :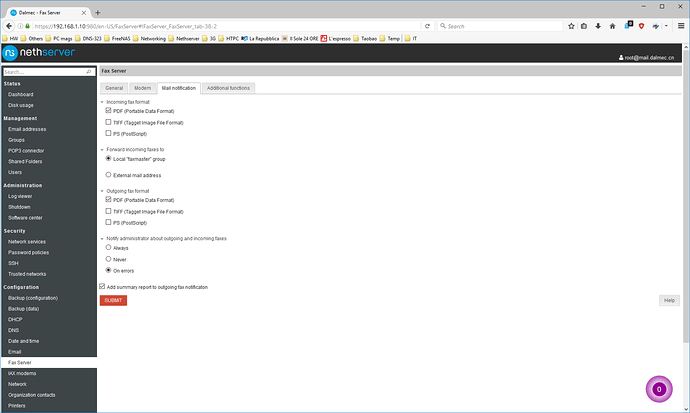 but the content of the configuration file for fax dispatch is :
---
#!/bin/sh
# ================= DO NOT MODIFY THIS FILE =================
# 
# Manual changes will be lost when this file is regenerated.
#
# Please read the developer's guide, which is available
# at https://dev.nethesis.it/projects/nethserver/wiki/NethServer
# original work from http://www.contribs.org/development/
#
# Copyright (C) 2013 Nethesis S.r.l. 
# http://www.nethesis.it - support@nethesis.it
# 

SENDTO=
FILETYPE="pdf"
NOTIFY_FAXMASTER=errors
LANG=it_IT


. /var/spool/hylafax/etc/FaxDispatch.iaxmodem
DISPATCH_DIR=/var/spool/hylafax/etc/dispatch

for f in `ls $DISPATCH_DIR`
do
    if [ -x $DISPATCH_DIR/$f ]; then
        $DISPATCH_DIR/$f "$FILE" "$DEVICE"
    fi
done

---
as you see, there are two issues :
The language is set to be English in the GUi but is still Italian in the form (the receive reports are in Italian)

The SENDTO field is empty and no faxes are dispatched.
I manually modified the file as follow and now faxes are delivered with proper report :
SENDTO=faxmaster
FILETYPE="pdf"
NOTIFY_FAXMASTER=errors
LANG=en_EN

My Hylafax version is :
Installed Packages
Name        : hylafax
Arch        : x86_64
Version     : 5.2.5
Release     : 1.nh
Size        : 2.7 M
Repo        : installed
From repo   : nethserver-base

Regards
Massimo