This howto describes the installation of LogicalDoc on NethServer. It's still a draft so it's intended for testing and improving…
Install prerequisites
yum -y install java libreoffice ghostscript xpdf tesseract clamav openssl unzip ImageMagick nethserver-mysql
Create /etc/my.cnf.d/logicaldoc.cnf with following content:
[mysql]
default-character-set = utf8

[mysqld]
character-set-server = utf8
collation-server = utf8_bin
default-storage-engine = INNODB

Restart mysqld:
systemctl restart mysqld
Create database and db user
You may change secret to a more secure password.
mysql
CREATE USER logicaldoc;
SET PASSWORD FOR logicaldoc@'%'=PASSWORD('secret');
GRANT ALL PRIVILEGES ON logicaldoc.* TO logicaldoc@'%' identified by 'secret';
exit

Setup firewall
Allow access from green:
config set fw_logicaldoc service status enabled TCPPorts 8080,8443 access green
signal-event firewall-adjust

Install Logicaldoc CE
wget https://sourceforge.net/projects/logicaldoc/files/distribution/LogicalDOC%20CE%208.1/logicaldoc-community-installer-8.1.0.zip/download -O logicaldoc-community-installer.zip
unzip logicaldoc-community-installer.zip
java -jar logicaldoc-installer.jar -console

Now you are asked various questions, just use default values by hitting enter except of:
Enter mail address
Enter mysql username and password and no manual specification so choose 0
Enter /usr/bin/tesseract for Tesseract setting
Now you may browse to https://NETH_IP:8443 and login with username admin and password admin.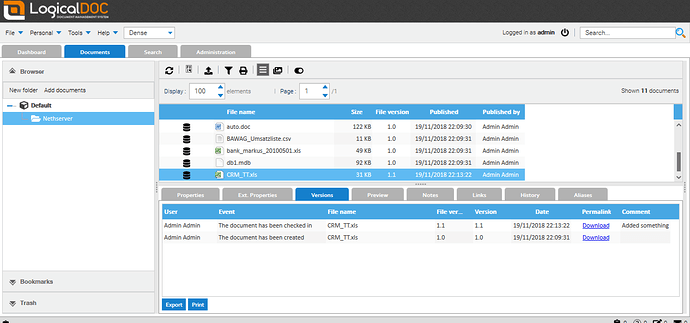 Todos
Virtual host reverse proxy to be able to use HTTPS port instead of 8443
Connection from Nextcloud or Webtop via local folders, samba or something else
Sources:
https://wiki.logicaldoc.com/wiki/Quick_Install#Setup_Procedure