NethServer Version: 7.6.1810
Module: dnsmasq & Firewall
High Level:
My DHCP requests keep being answered by the Comcast Business Wireless Router that is upstream from my Nethserver. I have tried dropping DHCP from Green Zone to Red Zone, but I must be missing something in the Firewall rules as all nodes on the Intranet are getting their IPs from the Comcast Router and not the NethServer, and routing their internet traffic through the Comcast Router, not the NethServer. (External IP is recognized as Comcast Router's not NethServers.
Details:
I have a Comcast Business Cable Modem with 13 usable static IPs. The WiFi and DHCP is enabled on the Comcast Router to serve as the guest network (10.50.0.0/24) with minimal to no access to our Intranet (10.100.0.0/21) which is behind the NethServer. I use the MAC Addresses and Ip reservations to provide "Static DHCP" IP Addresses. All of my hosts are getting their IPs from the Comcast router rather than the Neth server.
The NethServer has 1 embedded NIC which is connected to the Comcast router and set as the Red Zone, and a 4 Card NIC which has the first 3 interfaces Bridged and serve as the green zone. (I plan to setup the 4th port as a separate network for our Lab later)
Here is my Network Overview: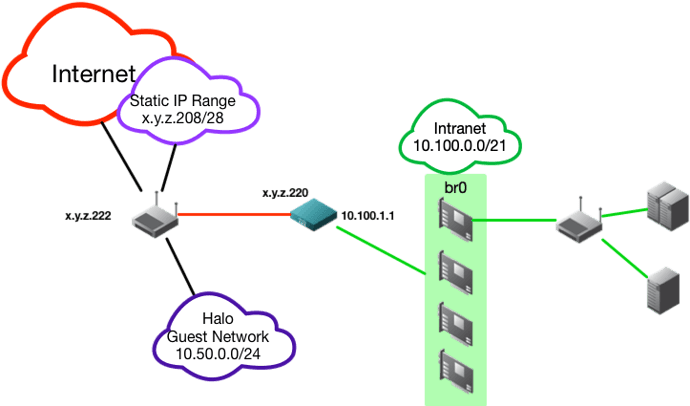 Here are my current Firewall Rules.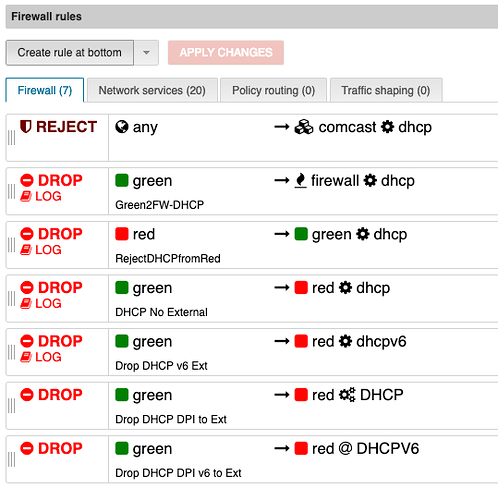 Here is my Network Config:


Any suggestions on how to adjust or add to the Firewall Rules so that anything in the Green Zone only sends DHCP to the NethServer and DHCP stays within the Green Zone would be appreciated.