Hi again, everybody! I need your wisdom.
I am beginning to investigate VLANs on my own, and I have decided to segment my network into several VLANs.
I have seen this switch which seems to be enough for what I want. D-Link DGS1100-24V2.
Basically the configuration would be something like this: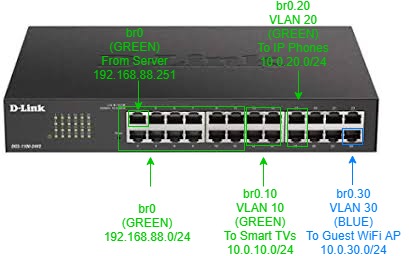 1- From the server's GREEN network card, I would connect a cable to port 1 of the switch, configured with a static IP (192.168.88.251)
2- From port 1 to port 12, I want it to act like a "normal" switch. That is, if I connect my laptop to port 3 (for example), assign it an IP in the range 192.168.88.0/24 from br0.
3- From port 13 to 16, VLAN 10 in the GREEN zone, with IPs 10.0.10.0/24 for SmartTV
4- Ports 17 and 18, VLAN 20 in the GREEN zone, with IPs 10.0.20.0/24 for IP phones
5- And finally, VLAN 30 in the BLUE zone, with IPs 10.0.30.0/24 for the WiFi APs for the guests.
You would need all the VLANs that are in a green zone (br0, br0.10 and br0.20), see each other and the teams can share files.
It's possible? Or would it need some other configuration?
As always, thanks for your help.
Cheers!