NethServer Version: latest 7.7
Module: cups-network-firewall
Hello everyone, I'm new here and new for Nethserver. I'm Italian so please don't laugh for my english


I'm trying to create a network config for my little office, but I don't know how to do. This is the result I want to get: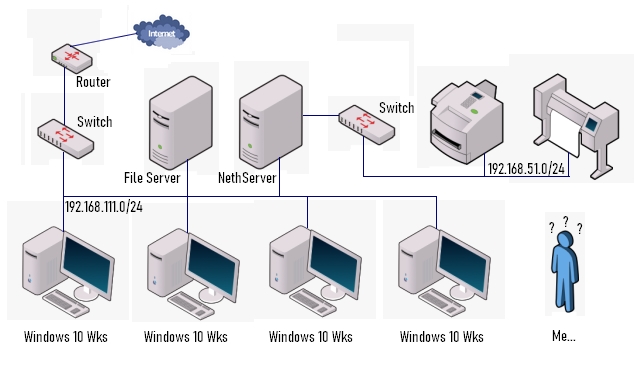 Nethserver will be used like raw print server and bridge for two lan with some conditions:
the lan 192.168.111.x (LAN1) must not see the other lan 192.168.51.x. (LAN2)
some IPs from LAN2 have to go out in internet through LAN1 and his router
a couple of IPs from LAN2 can reach one or more IPs in LAN1 to use a "scan folder" on file server
I think I have to set some firewall rules to achieve this goal, but now the problem is that the LANs don't see each other. Nethserver has IP 192.168.111.5 in LAN1 and 192.168.51.5 in LAN2. I can ping the IF on "the other side" with a pc in the LAN1 and LAN2. But I cannot ping the router or a MFP from the other LAN. Is there a way to tell Nethserver to do a "complete bridge" for the LANs and after shape the traffic as I told? Thank you a lot.