NethServer Version: 6.8
Module: Windows Network
I am in process to replace some old laptops with new ones. All laptops to be replaced are running WIN 10 Pro are connected to the NS domain, working with no problem (shared folders, email…).
Yesterday I started the replacement process on one laptop and I disconnected it from the domain while offline (not connected to the company network).
The new laptop is running WIN 10 Pro and has been prepared to join back the domain : registry patch installed and assigned computer name identical to the one of the one replace (same user, new machine).
This morning, when back to the office, I tried to connect the new laptop to the domain, but I keep getting the following error message :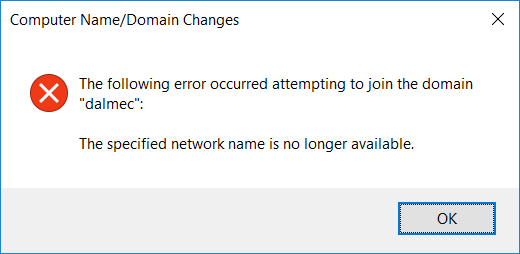 I guess the problem lies in the fact that I disconnected the old laptop while offline and now I try to join the domain again with the same computer name.
How can I solve this issue while keeping the same computer name?
Thank you
Massimo