NS v7-b2
NS IP = 192.168.2.100
NS DC = 192.168.2.101
First I created NS Samba user 'jbales' and made a File Sharing 'docs', and tested the jbales worked with Windows 7 and he and the administrator can read/change/delete the docs folder and the read netlogon and sysvol folder. Using NS backup software I backuped the configuration and data file onto a USB drive.
Then I reformatted the hard drive and re-installed NS v7-b2 and installed the necessary components - NS Samba, Backup and File Server - and made the host name is the same and DC IP is the same.
When I restored the configuration portion NS everything was back in place including the new Samba user and File Sharing. Then I did data restore.
Before rebooting when I tested Windows 7 administrator login he could see his administrator@bales.lan folder, the docs folder and sysvol folder, but not the netlogon folder. The same happened to the user jbales.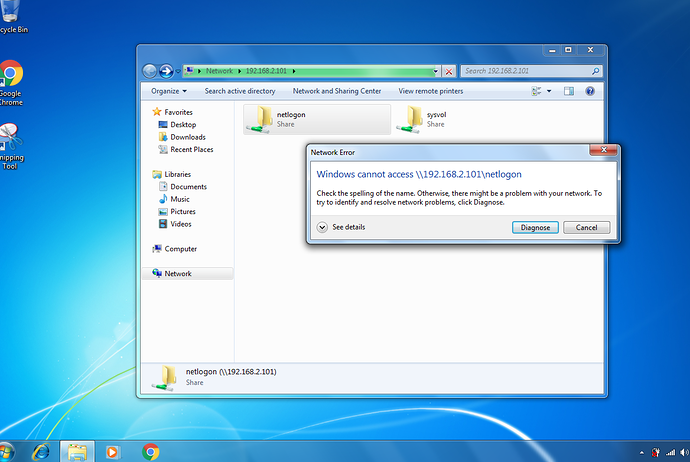 I then rebooted the NS server and after that the only shares that the user can read in the sysvol folder. All of the other used was 'Access is denied'. I shutdown the server and brought it back up, I de-joined the domain and joined the domain again. The same results. Note: the administrator@bales.lan folder is not showing after the reboot.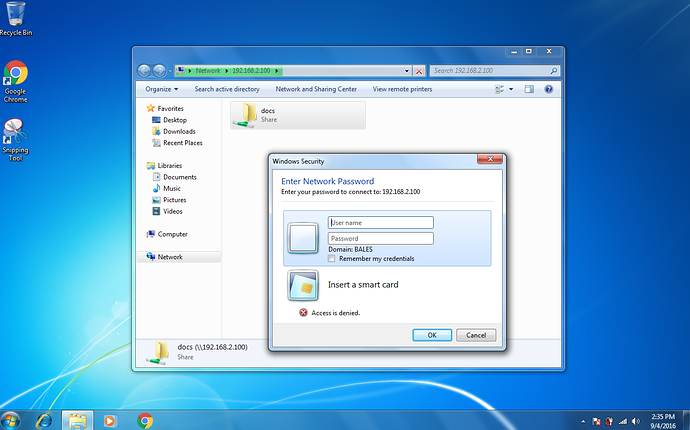 I repeated several times with virtual (v7 b1 and v7 b2) and they had the same problem.
Here is link to /var/log/messages file for the second, recovery NS machine. The log portion for the configuration and data store only is too big.
https://drive.google.com/file/d/0BzXWUMaIvtgcaEF6RjhpRG90Vnc/view?usp=sharing