NethServer Version: 7.6.1810
Module: network
I have Netserver running as a VM in Proxmox, acting as an Active Directory, with two network interfaces in NS, the red and green.
A few months ago we got a Fortigate (I don't understand the whole device yet) so I want to achieve one of two things (or both):
Take out the red interface and just use the green for the local lan and the FG as the gateway
Later put the red interface in a DMZ on the FG.
But in the NS gui, I can't disconnect the red interface, I don't see how. So I ended having to gateways in the red(router from the bridge in proxmox) and green(FG) interfaces.
Worse, if I disconnect the vmbr interface in proxmox for the red interface, NS becomes unresponsive, no gui no pings.
So, I wonder if I can achieve the first point from above, and later the second one, without reinstalling the whole NS server (worse case scenario).
And the next question is:
Is possible to backup and restore the DC container / Active Directory, to another/fresh Nethserver installation, so I don't need to re-create & re-join each PC in our AD?
I confess that I haven't readed the whole NS manual (shame), maybe there is all my answers.
I see that the openvpn uses the red interface, I don't need the vpn service in this proxmox so I can uninstall it without problems (but I don't know how to)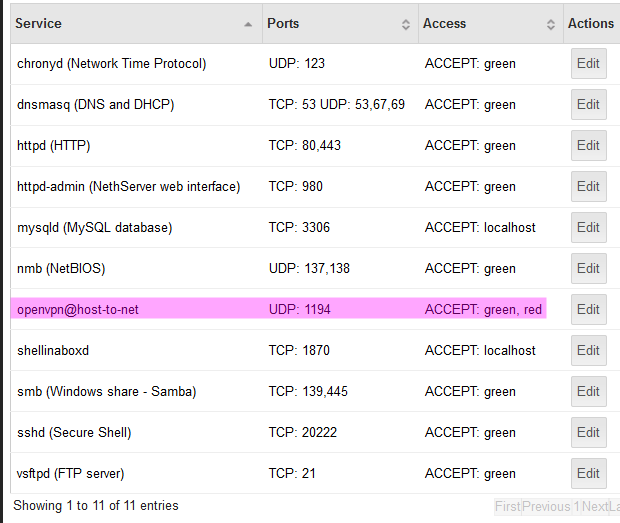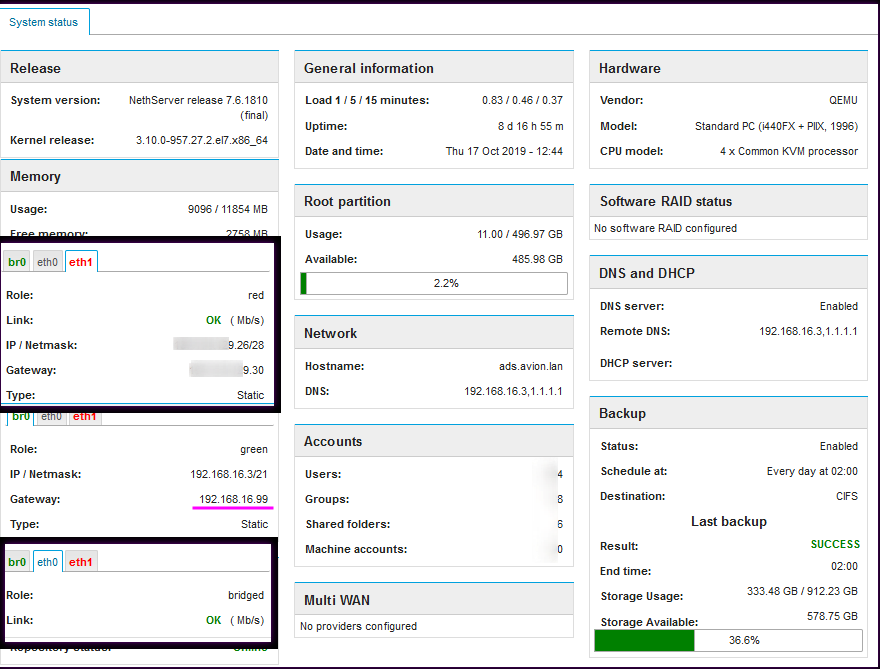 Any hint to learn how to manage this need?
At second tough, maybe I need first to learn how to put this NS into the DMZ of the fortigate, maybe is all what I need.
But what worries me is than when I disconnect the red interface, then NS and GUI stops working.
Thanks in advance.