Hi,
Last week, @alefattorini sent us a little pool.
It was a suggestion I made to know what are expectatives about NethServer.
And as we are at a birthday date, an opportunity to make a balance and try to know where to go.
Here the participants: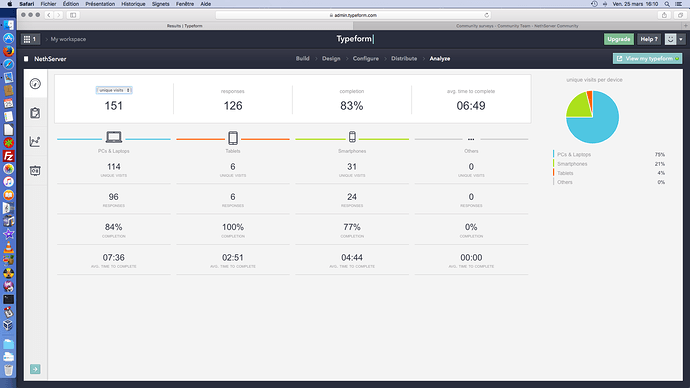 Here the results:
https://jim177.typeform.com/report/DofIoR/QoRe
And here, the way I read the result:
First, "Googling", the user found NethServer making an active search, not reading a site, not picking up an information.
We will need to make plan for a better divulgation.
I think our job with Distrowatch is good, we are actually at #114 in the ranking, I think it will be easier when we will be in the #100, when NethServer will appear on the first page on the right ranking.
126 answers on 1078 … More than 10%
It's not so good, but it's not bad too.
It's more or few what we already know ( the ratio 90/9/1). In a community, in statistics, in one hundred people, only 9 persons participe in the community punctually , and only 1 is really active.
Clearly, we should organize our doc, I had this intuition…It's not a little wave…it's a tsunami… It's confirmed

For the rest it's really hard to make conclusion, result are too closed virtual/real appliance, modularity/easy setup, at work/at home…
We will need to dig… Sure we will need more pool to investigate some points.
For now, we have to communicate about this one, and wait reactions, and already work on the result before making the next pool.
I think to not use this tool, the pool, too often, it can be boring. Perhaps, one each two months can be good frequency, to participe, and to see a result, a little change…
If too often, we can't make change, and the community will not see any result…
For now, for the doc,
I think we need more installation guide, on VPS, on Amazon Plateform, etc, etc…and all the services for the basic installation, like proxy configuration, squid configuration…
I suggest to pick up the official doc ( admin manual) and add some screenshots for the user guides,.
For the developper doc, @stephdl made a great work, but it's still harsh, I think a little more "intermediate" doc can help, and to fill the "missing link" the webgui part
For example: how to make a item in the side bar.
how to make an input field.
The newcomer must feel at ease when reading the doc.
To help the well know perl or php developer to know the esmith database and the webgui.
To help the well know apache developer to master perl.
We have to "demystifiy" all elements of the development process.
If the newcomer have 70% of knowledge… We must fill the 30%, to reach the 100%
I want to explain that a new sysdmin don't know all the parts of NethServer, but perhaps he know one or two parts and we have to make documentation for the rest he need to make things for him, and certainly for NethServer… For the community.
We must make thing easy for each type of newcomer, it's the ONLY way to have more contributors.
When things are too hard to do, people don't stay a lot.
We have a strange behavior in the result: NethServer is used at work and because it's easy… So it's a profesional sysadmin that have an easy system… But need more documentation, there's no contradiction here but we have to think of what kind of documentation he need


As NethServer is easy… It can be up rapidly, but when it's up, the user, the sysadmin must know what's under the hood to maintain the system.
I have the same toughs here, a Linux user use Linux because he can know all part of the system, by opposite of a closed system, by consequence, we have to explain each part, to make things transparents…

I had the intuition for the documentation, now that's proven we need a better documentation
At least, I hope it will be easier to convince that it's the way to go, to motivate all the teams, and other contributors, to fill this wiki