Hi guys

,
in these weeks we worked on the new design (I hope the definitive) of the next NethServer admin dashboard AKA NethServer Cockpit.
The focus is:
Make the new NethServer modules self-contained as separated apps using the same style and design (the patternfly design).
Implement all functions server-side, it's possibile to call them directly from terminal, using a CLI for example: nethserver <module> <action>
The interface use those functions to execute actions from GUI directly to the system, as usual
We developed the new version because the previous one had many nasty things:
It uses AngularJS 1.0 (that's quite old)
All the APIs are implemented via JavaScript, client-side
The System view has cards that are not easily navigable and not in the patternfly standars that instead promote left menu navigation
This new version:
It uses VueJS: that is modern, simple, lightweight and faster than AngularJS
All the APIs are implemented server-side with helpers, that the client calls using cockpit.spawn() as described above
The System has a left menu, fully navigable, and it will be used as a starting point to the next NethServer modules
You can test the new version by installing it from nethserver-testing repository:
yum install -y http://packages.nethserver.org/nethserver/7.5.1804/testing/x86_64/Packages/nethserver-cockpit-0.0.0-1.22.g71d412e.ns7.noarch.rpm
After installation navigate to https://your_server_ip:9090 and enjoy the new interface.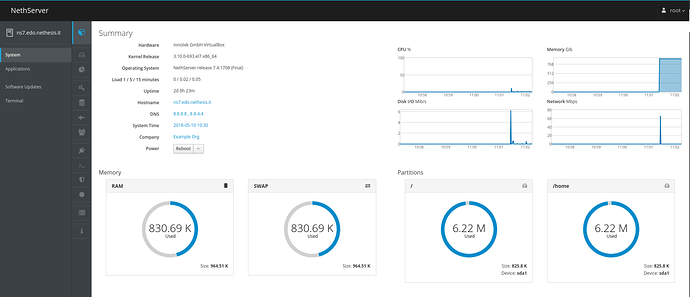 You can also view the First Configuration Wizard, navigate to https://your_server_ip:9090/nethserver-system#/wizard to see it.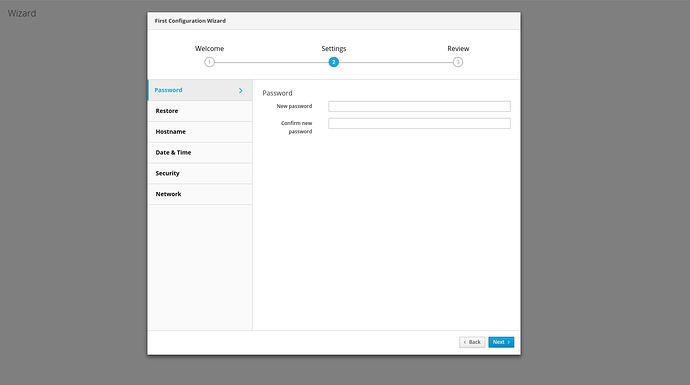 It is only a mockup, without functionalities, but it's used as a demostration of the new interface.
Feedbacks are welcome

Bye