NethServer Version: 7.5
Module: base system
My backup neth server, which is acting as a hotsync target, has three network interfaces–one is green (which had been a 10G interface), the other two are unused. I needed to remove the 10G NIC/cable and use a different interface. Powered down, removed cable, plugged in a network cable to one of the other interfaces, and did db networks setprop enp0s25 ipaddr blah gateway blah netmask blah role green followed by signal-event interface-update. That didn't quite work, so I also did db networks delprop those same properties on the old interface followed by another signal-event interface-update. That seemed to do the trick–I could ping in and out, ssh in, pull up the server manager, etc.
However, I was still getting error messages from hotsync. Figuring that maybe the new interface wasn't fully configured, I went to the server manager, Networks page, edited the configuration of this interface, changed nothing, and clicked save. Big problems: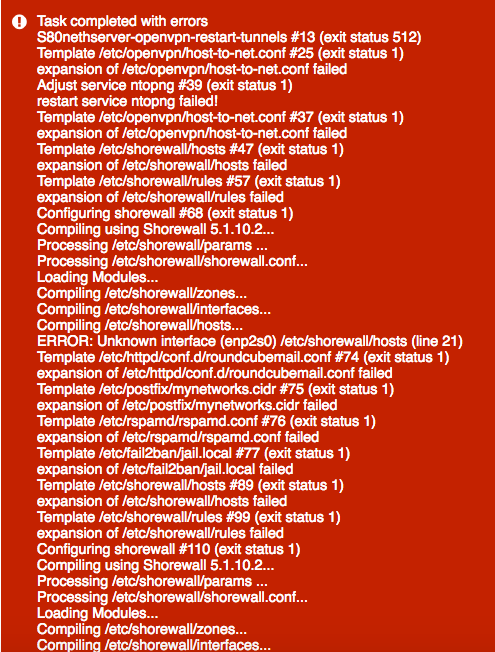 Not sure what's up at this point. Server manager still works, SSH still works, but hotsync is still throwing an error every 15 minutes. Thoughts?