NethServer Version: NethServer release 7.4.1708
Module: nethserver-samba
I recently replaced my company's Windows SBS 2011 AD setup with a NethServer installation and I'm absolutely loving it. There were a lot of struggles with printing and file shares at first, but once I stopped adding lines to smb.conf with reckless abandon and started actually learned what they do I got everything stable.
I love the integration with Windows tools, but I'd like to be able to view the Sessions and Open Files sections in fsmgmt.msc. If I open either of these I get You do not have permissions to see the list of Windows clients. I get these messages for all accounts, including administrator, which has all of the Se* privileges including SeDiskOperatorPrivilege. I can access these consoles for the nsdc container, so I don't think it's a permissions issue. I can view and modify all apsects of the Shares from this console. If I open the System Tools console from compmgmt.msc, I get this: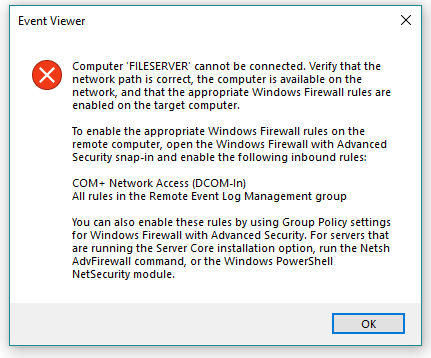 I know the DCOM-In port is 135, but I don't think it's a network issue. I've compared open ports to a working Samba NAS (from which I can access Sessions & Open Files from fsmgmt.msc) and there's no apparent differences (the NAS only has the usual 139 and 445 Samba ports and HTTP/etc–no rpc ports). I've tried it with a vanilla NethServer installation and I get the same error. The domain controller has 135 open and works fine, but the NAS does not have the port and also works. Maybe a different SMB version or auth mehtod?
I can run net status shares as root and get the list of open files, but not with administrator–it says "Failed to init messaging context." An strace net status shares -d 10 ran as administrator shows that administrator doesn't have privileges to open files in the msg.lock directory, which I suppose is normal since they're root:root and either 0770 or 0640. Changing these permissions (for troubleshooting purposes; I assume this is ill-advised) will give an error but will allow administrator to run the command–but it does not change the Windows result.
Nothing shows up in /var/log/messages and the client's Windows Event Viewer doesn't show anything relevant. I have changed just about every line in my smb.conf at some point, but the problem is reproducible on a stock installation so I assume that is irrelevant.
If this is not possible, that's fine; it's not a huge deal. I have a few one-liners that can format the results of these commands. I'm just curious to see if it's something simple because I'm a prideful man and I spend way too much time trying to solve insignificant issues on my own.
Thanks!
Cory